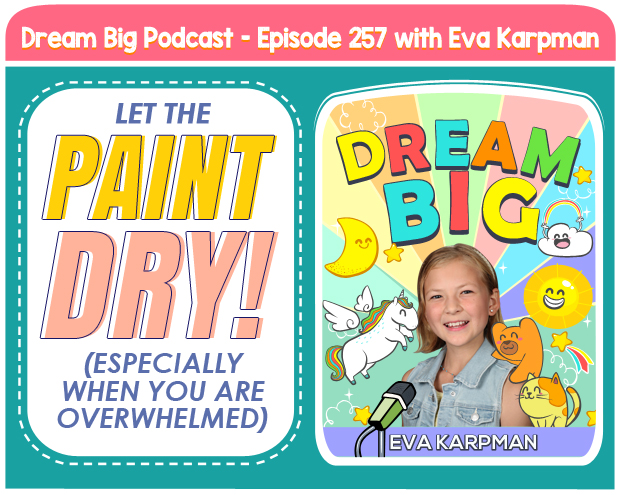 Share this: 
LISTEN TO OUR PODCAST
Subscribe and listen to the DREAM BIG Podcast on:
iTunes  |  Stitcher  |  Google Play Music  |  Soundcloud  |  iHeartRadio  |  Spotify
SOLO EPISODE FROM EVA
Daniel J. Watts is a legendary Broadway performer, appearing in nine Broadway shows including Hamilton, In The Hnines and Memphis. So it should be no surprise that Daniel used performance art when he delivered his recent TedX talk. He literally painted with his feet while masterfully sharing his life experience leading up to and during the pandemic. Daniel uses the metaphor of paint, sharing that in life sometimes we need to let the paint dry. We need to take a break, assess the situation, and then make the next move.
With the pandemic cancelling Broadway shows for the past year, Daniel was forced to let the paint dry and now plans to be more conscious of intentionally letting the paint dry in the future.
Eva shares how she is implementing Daniel's advice in her own life and why this is such a powerful metaphor to remember whenever you feel overwhelmed or stressed. Thank you Daniel for your inspiring and creative TedX talk!
RESOURCES
Not sure where to get started?
It is as easy as 1, 2, 3.
Step 1 – Enjoy These FREE Resources:
Step 2 – Subscribe To The Dream Big Podcast
Step 3 – Connect With Our Community
Share With Eva How The Dream Big Podcast Has Impacted Your Family's Life. Eva Will Respond With A Personalized Video Message 🙂