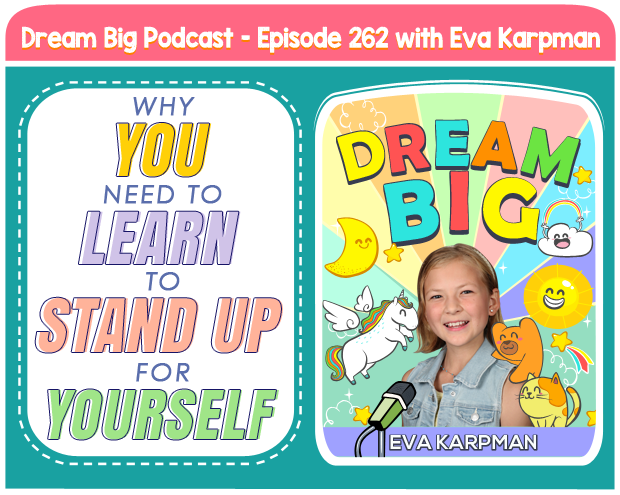 Share this: 
LISTEN TO OUR PODCAST
Subscribe and listen to the DREAM BIG Podcast on:
iTunes  |  Stitcher  |  Google Play Music  |  Soundcloud  |  iHeartRadio  |  Spotify
SOLO EPISODE FROM EVA
Have you ever wanted to speak up for yourself and for whatever reason stayed quiet? Eva used to be so shy that she didn't even want to place her own order at a restaurant. Today Eva shares why it is so important to be willing to raise your hand, to ask for help, and to stand up for yourself.
This episode was inspired by Maria Menounos. Maria has been a primetime TV personality for many years, serving as host of Extra and E! News, co-host of Eurovision song contest , and TV correspondent for Today and Access Hollywood. She is also a professional wrestler with the WWE and hosts a podcast called Better Together.
Now you would think that for someone who has made a living speaking on live TV that Maria would have no problem at all speaking up for herself at work! But that was not always the case, and Maria shares the toxic belief system that held her back from speaking up earlier in her career. And how she gained the respect of her bosses more recently when she became more vocal about her feelings and needs.
This is such an important lesson for our young Big Dreamers, and Eva shares examples of how she has learned the importance of speaking up and asking questions in her own life. Thank you Maria for inspiring this episode.
RESOURCES
Not sure where to get started?
It is as easy as 1, 2, 3.
Step 1 – Enjoy These FREE Resources:
Step 2 – Subscribe To The Dream Big Podcast
Step 3 – Connect With Our Community
Share With Eva How The Dream Big Podcast Has Impacted Your Family's Life. Eva Will Respond With A Personalized Video Message 🙂