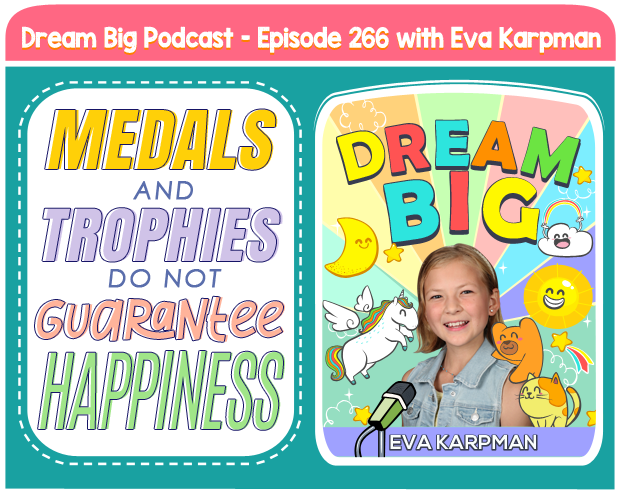 Share this: 
LISTEN TO OUR PODCAST
Subscribe and listen to the DREAM BIG Podcast on:
iTunes  |  Stitcher  |  Google Play Music  |  Soundcloud  |  iHeartRadio  |  Spotify
SOLO EPISODE FROM EVA
A few years ago, a UCLA gymnast named Katelyn Ohashi captivated the world with a viral floor routine that has amassed over 190M views on Youtube. If you are one of the few who has not seen Katelyn's performance, we are including a link to the video in the Resources section of our show notes.
You will literally feel Katelyn's positive energy and fun-loving attitude come through your device when you watch her routine. Katelyn's performance, which earned a Perfect 10, showcased that rare combination of immense talent and contagious joyfulness, which made the whole world stop and collectively smile.
That's why it came as a complete shock to our family when we heard Katelyn share in an interview that until recently she was extremely unhappy. In fact, just a few years before arriving at UCLA, Katelyn was so depressed that she was ready to give up on gymnastics entirely. How did Katelyn turn her life around and become the happy, young woman that was on full display in that performance? Eva shares Katelyn's story in this episode, which includes important life lessons for all the young Big Dreamers in our audience particularly about the importance of self-love. Thank you Katelyn for inspiring this episode!
RESOURCES
Not sure where to get started?
It is as easy as 1, 2, 3.
Step 1 – Enjoy These FREE Resources:
Step 2 – Subscribe To The Dream Big Podcast
Step 3 – Connect With Our Community
Share With Eva How The Dream Big Podcast Has Impacted Your Family's Life. Eva Will Respond With A Personalized Video Message 🙂