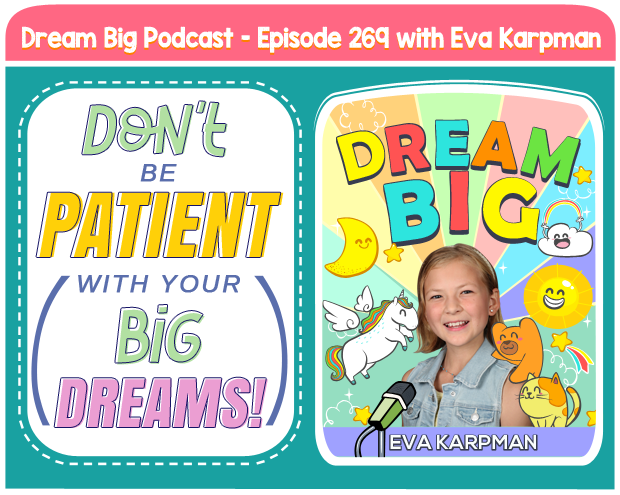 Share this: 
LISTEN TO OUR PODCAST
Subscribe and listen to the DREAM BIG Podcast on:
iTunes  |  Stitcher  |  Google Play Music  |  Soundcloud  |  iHeartRadio  |  Spotify
SOLO EPISODE FROM EVA
We've told our kids on numerous occasions to "Be Patient. Things Take Time." or even the good ol' phrase "Patience is a Virtue." But we recently stumbled across a quote from the great Tom Bilyeu that challenged our views on patience, especially when it comes to teaching our kids about how to accomplish their Big Dreams.
Tom shared: "Stop being patient and start asking yourself, how do I accomplish my 10 year plan in 6 months? You'll probably fail but you'll be a lot further along than the person who simply accepted it was going to take 10 years."
In this episode, Eva unpacks Tom's quote and shares why it is so important to not only Dream Big but also to take massive action. While Tom's quote may be controversial, we believe it is an important reminder that Big Dreamers can not wait for their big dreams to unfold but instead must charge towards their dreams.
RESOURCES
Not sure where to get started?
It is as easy as 1, 2, 3.
Step 1 – Enjoy These FREE Resources:
Step 2 – Subscribe To The Dream Big Podcast
Step 3 – Connect With Our Community
Share With Eva How The Dream Big Podcast Has Impacted Your Family's Life. Eva Will Respond With A Personalized Video Message 🙂