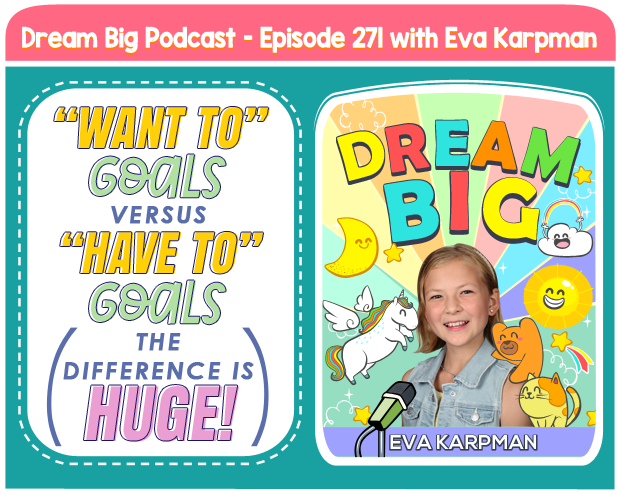 Share this: 
LISTEN TO OUR PODCAST
Subscribe and listen to the DREAM BIG Podcast on:
iTunes  |  Stitcher  |  Google Play Music  |  Soundcloud  |  iHeartRadio  |  Spotify
SOLO EPISODE FROM EVA
Dr. Susan David, the bestselling author of Emotional Agility, has identified a powerful difference between "Have to" Goals and "Want to" Goals. Eva shares that difference in this episode, and offers some examples of "Want to" and "Have to" Goals in her own life. This includes the recent experience of hatching baby quail from an incubator (definitely a "Want to" goal).
But more importantly, Eva shares how she was able to apply Dr. Susan's advice to convert studying for math, which she always thought of as a "Have to" task, into a "Want to" task by connecting math with her love of farm animals.
Eva also challenges all Big Dreamers to identify a "Have to" goal in your life, and reframe it as a "Want to" goal using the strategy that she shares in this powerful episode. A huge thank you to Dr. Susan David for outlining this important distinction.
RESOURCES
Not sure where to get started?
It is as easy as 1, 2, 3.
Step 1 – Enjoy These FREE Resources:
Step 2 – Subscribe To The Dream Big Podcast
Step 3 – Connect With Our Community
Share With Eva How The Dream Big Podcast Has Impacted Your Family's Life. Eva Will Respond With A Personalized Video Message 🙂