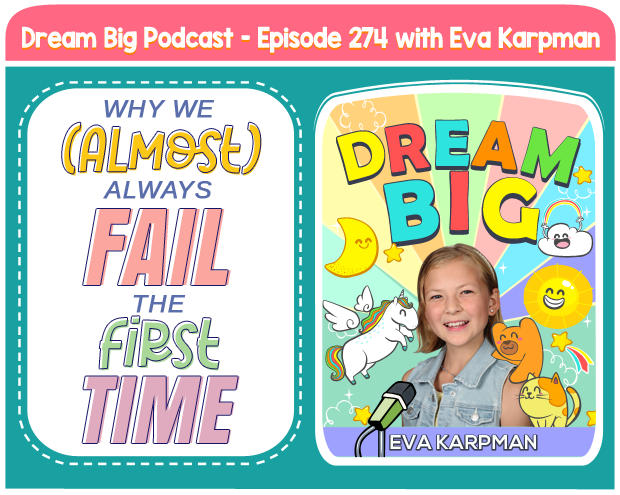 Share this: 
LISTEN TO OUR PODCAST
Subscribe and listen to the DREAM BIG Podcast on:
iTunes  |  Stitcher  |  Google Play Music  |  Soundcloud  |  iHeartRadio  |  Spotify
SOLO EPISODE FROM EVA
Rachel Hollis is the best selling author of Girl, Wash Your Face and Girl, Stop Apologizing and host of the Rachel Hollis Podcast. In a recent interview, Rachel explained how early in her career before she had written her 1st book, she believed that she just had to finish a book and then it would get published. But when she finished it, no publisher was interested. Michael Jordan, widely considered the best basketball player of all time, was famously cut from his high school basketball team.
There are many who would say that Michael Jordan's coach made the biggest mistake of his life, or those publishers missed a huge opportunity by passing on Rachel's first book. But Rachel shared: "The truth was that I was not good enough yet and he was not good enough yet and we had to keep on doing the work to get to this place. That's what people miss. You have to keep going. You don't know who you are going to be half a decade from now or 10 years from now."
Expanding on Rachel's quote in this episode, Eva shares why we can expect to fail (especially on our first try) when we are pursuing our big dreams. And why it is so important that we keep on doing the work and not give up. Rachel Hollis and Michale Jordan would have never shared their unique gifts with the world if they had quit! We all have unique gifts and we must keep on pushing toward our big dreams even when we don't get the early result we were hoping for!
RESOURCES
Not sure where to get started?
It is as easy as 1, 2, 3.
Step 1 – Enjoy These FREE Resources:
Step 2 – Subscribe To The Dream Big Podcast
Step 3 – Connect With Our Community
Share With Eva How The Dream Big Podcast Has Impacted Your Family's Life. Eva Will Respond With A Personalized Video Message 🙂