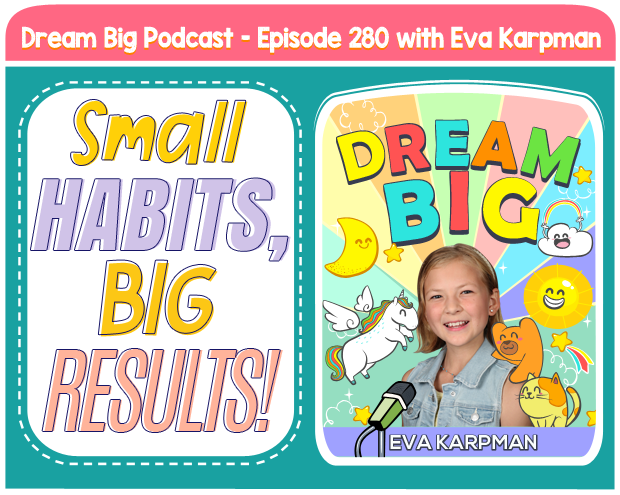 Share this: 
LISTEN TO OUR PODCAST
Subscribe and listen to the DREAM BIG Podcast on:
iTunes  |  Stitcher  |  Google Play Music  |  Soundcloud  |  iHeartRadio  |  Spotify
SOLO EPISODE FROM EVA
Today, Eva discusses the power of small habits.  Given that Eva's podcast is titled Dream Big, it should not be a surprise that Eva talks mostly about BIG dreams, BIG goals, and BIG action. But it is important to remember that small habits each and every day can lead to very big results over a period of time.  Eva shares some great examples in this episode.  For instance, did you know that if you read just 20 pages per day, you could read 30 books in 2022 (assuming average book size was 243 pages).  I don't know about you… but 30 books in one year sounds super ambitious to me!  But 20 pages per day seems very doable.  And that is just one of many great examples you'll hear when you tune in to the 280th episode of the Dream Big Podcast.
Not sure where to get started?
It is as easy as 1, 2, 3.
Step 1 – Enjoy These FREE Resources:
Step 2 – Subscribe To The Dream Big Podcast
Step 3 – Connect With Our Community
Share With Eva How The Dream Big Podcast Has Impacted Your Family's Life. Eva Will Respond With A Personalized Video Message 🙂