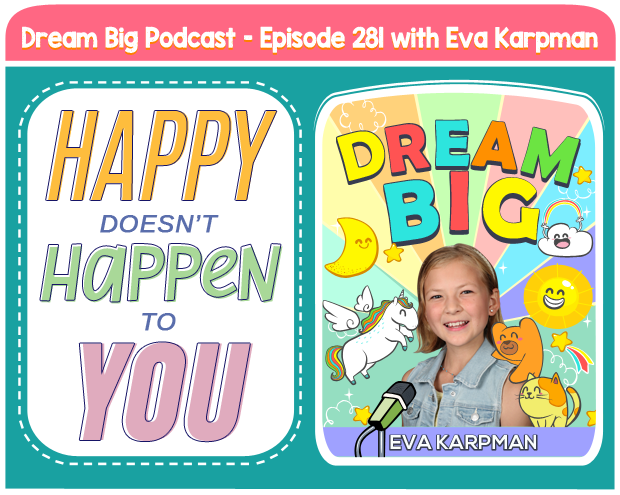 Share this: 
LISTEN TO OUR PODCAST
Subscribe and listen to the DREAM BIG Podcast on:
iTunes  |  Stitcher  |  Google Play Music  |  Soundcloud  |  iHeartRadio  |  Spotify
SOLO EPISODE FROM EVA
We talk a lot about Big Dreams in our family. But we talk even more about happiness. Why? Because we want our kids to know that achievement alone will not guarantee you happiness. Look at all the ultra rich people in this world who are very unhappy.
With the holiday season here, there are many who believe that the holiday season will bring you happiness. You'll hear the greeting Merry Christmas or Happy Holidays, but we all know that there are plenty who will not be happy and merry this holiday season.
In this episode, Eva shares why Christmas, Hanukkah, Kwaza, or whatever holiday you celebrate, will not make you happy. Instead, as Eva explains, it is YOU who makes you happy.
This is a powerful and timely reminder that kids (and adults) need to hear, and Eva shares some practical tips on how to be happy this holiday season.
Not sure where to get started?
It is as easy as 1, 2, 3.
Step 1 – Enjoy These FREE Resources:
Step 2 – Subscribe To The Dream Big Podcast
Step 3 – Connect With Our Community
Share With Eva How The Dream Big Podcast Has Impacted Your Family's Life. Eva Will Respond With A Personalized Video Message 🙂