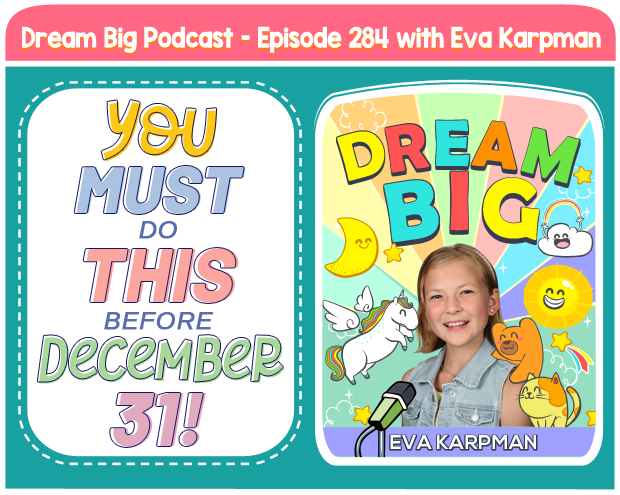 Share this: 
LISTEN TO OUR PODCAST
Subscribe and listen to the DREAM BIG Podcast on:
iTunes  |  Stitcher  |  Google Play Music  |  Soundcloud  |  iHeartRadio  |  Spotify
SOLO EPISODE FROM EVA
As Big Dreamers, we are so focused on the future. What are we going to do next? What are our goals for the new year? And how are we going to accomplish them? As a result, many of us don't spend nearly enough time reflecting on the past year, and celebrating what we have accomplished.
In this episode, Eva shares the importance of capturing the wins from the past year on paper and feeling gratitude for all the amazing things that happened to you. This exercise will help energize you for the year ahead!
A special thank you to Big Dreamer Chloe Chan for writing to Eva with a great question that inspired this episode. We hope that Chloe and all Big Dreamers have a great close to 2021 (which you will if you listen to Eva's advice in this episode!) and an exciting year of growth and progress ahead in 2022.
Finally, be sure to check out the resources section of our show notes, which contain links to 4 past episodes where Eva shares ideas about New Year resolutions.
RESOURCES
Not sure where to get started?
It is as easy as 1, 2, 3.
Step 1 – Enjoy These FREE Resources:
Step 2 – Subscribe To The Dream Big Podcast
Step 3 – Connect With Our Community
Share With Eva How The Dream Big Podcast Has Impacted Your Family's Life. Eva Will Respond With A Personalized Video Message 🙂