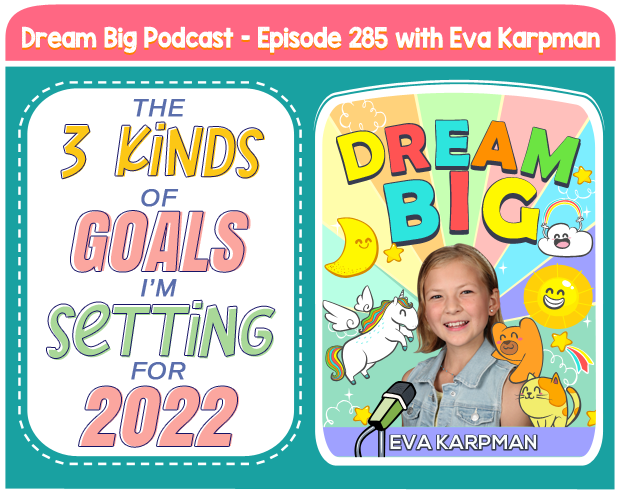 Share this: 
LISTEN TO OUR PODCAST
Subscribe and listen to the DREAM BIG Podcast on:
iTunes  |  Stitcher  |  Google Play Music  |  Soundcloud  |  iHeartRadio  |  Spotify
SOLO EPISODE FROM EVA
Big Dreamers, young and old, often get overwhelmed with goal setting, especially at the start of the New Year. Too many of us just create one long list of all the goals we want to accomplish. A lengthy single-level list can lead to anxiety, which is the last thing you want when you are setting your goals.
In today's episode, Eva shares how she categorizes her goals into 3 main buckets: (1) Skills; (2) Health; and (3) Relationships. When you organize your goals in these 3 high-level categories, suddenly the goals seem much more manageable (and therefore more attainable). Eva shares some examples of goals in each of these categories that she has set for 2022, and challenges all Big Dreamers to create a handful of goals in each of these categories as well.
Let's make 2022 our best year yet!
RESOURCES
Not sure where to get started?
It is as easy as 1, 2, 3.
Step 1 – Enjoy These FREE Resources:
Step 2 – Subscribe To The Dream Big Podcast
Step 3 – Connect With Our Community
Share With Eva How The Dream Big Podcast Has Impacted Your Family's Life. Eva Will Respond With A Personalized Video Message 🙂