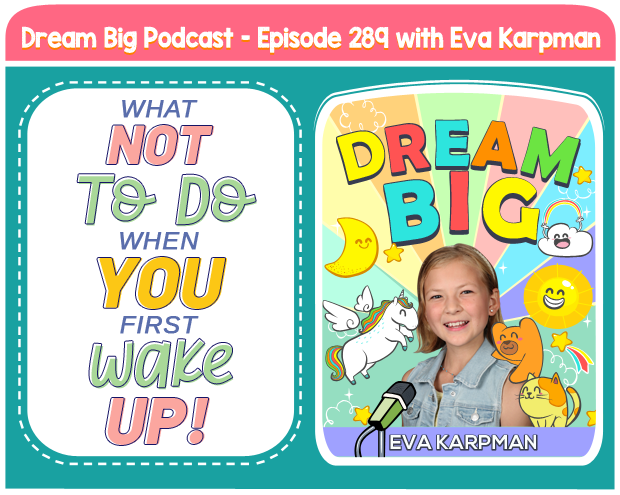 Share this: 
LISTEN TO OUR PODCAST
iTunes  |  Stitcher  |  Google Play Music  |  Soundcloud  |  iHeartRadio  |  Spotify
SOLO EPISODE FROM EVA
Today's episode is rare in that Eva is telling the Big Dreamers something that they should NOT do! This is something that many parents (us included) have been guilty of far too often. But it is a really bad habit, and one that becomes harder to break as the years go by.
Specifically, Eva discusses the habit of waking up and immediately opening your phone to either check email or to otherwise consume other people's content (we are leaving out motivational content for purposes of this episode). Eva explains why giving away the precious first 30 minutes of your day to someone else's priorities is a terrible way to kick off your morning, and shares what she does when she first gets out of bed.
We hope that this episode serves as an important reminder to young and older Big Dreamers to prioritize the first moments you are awake as a time to claim the day as your own — which simply cannot be done by looking at your inbox or watching dance challenges on TikTOk!
Not sure where to get started?
It is as easy as 1, 2, 3.
Step 1 – Enjoy These FREE Resources:
Step 2 – Subscribe To The Dream Big Podcast
Step 3 – Connect With Our Community
Share With Eva How The Dream Big Podcast Has Impacted Your Family's Life. Eva Will Respond With A Personalized Video Message 🙂