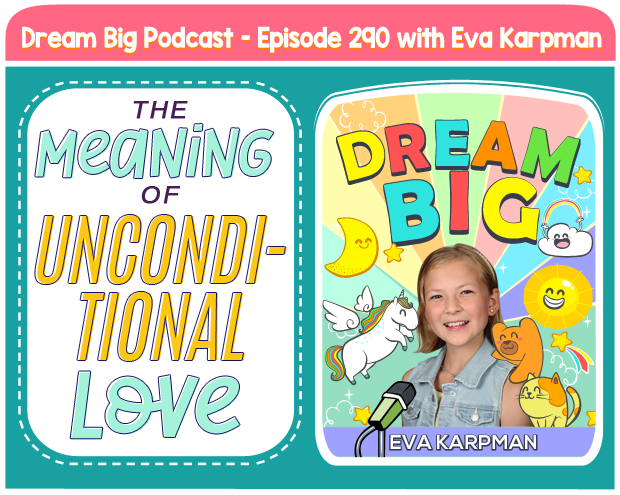 Share this: 
LISTEN TO OUR PODCAST
iTunes  |  Stitcher  |  Google Play Music  |  Soundcloud  |  iHeartRadio  |  Spotify
SOLO EPISODE FROM EVA
Love is not an easy emotion to describe. It's a feeling that you experience when you are giving or receiving love — but certainly not easy to explain to a kid or even an adult. Unconditional love is an even more challenging concept — this idea that you can love someone without conditions, even if that person is misbehaving or treating you unfairly.
That's why Eva decided when she came across an example of unconditional love in her own life, that she would tell the story. Because there's no better way to explain a concept than with a story that perfectly illustrates it!
We hope you enjoy Eva's example of unconditional love and challenge all you Big Dreamers to show unconditional love in the way Eva describes the next time an opportunity presents itself.
Not sure where to get started?
It is as easy as 1, 2, 3.
Step 1 – Enjoy These FREE Resources:
Step 2 – Subscribe To The Dream Big Podcast
Step 3 – Connect With Our Community
Share With Eva How The Dream Big Podcast Has Impacted Your Family's Life. Eva Will Respond With A Personalized Video Message 🙂