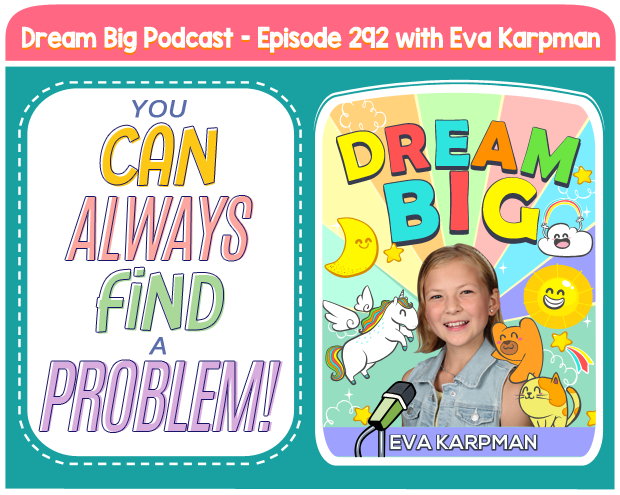 Share this: 
LISTEN TO OUR PODCAST
iTunes  |  Stitcher  |  Google Play Music  |  Soundcloud  |  iHeartRadio  |  Spotify
SOLO EPISODE FROM EVA
We all have problems.  Every human on earth can find something to complain about.  Some stress…  Some aggravation…  Something that is going wrong in their life! 
Yet while we can look for what's wrong, we can also look for what's right!  
And that is Eva's message in this episode.  Even better, Eva shares how we as a family train our brain every evening at dinner to look for what's going right in our lives.  It's amazing how 5-10 minutes of gratitude practiced every day can change the way you view the world.
Not sure where to get started?
It is as easy as 1, 2, 3.
Step 1 – Enjoy These FREE Resources:
Step 2 – Subscribe To The Dream Big Podcast
Step 3 – Connect With Our Community
Share With Eva How The Dream Big Podcast Has Impacted Your Family's Life. Eva Will Respond With A Personalized Video Message 🙂