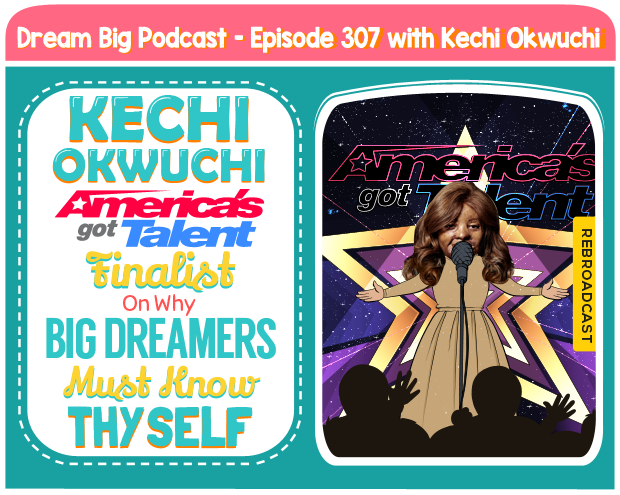 Share this: 
LISTEN TO OUR PODCAST
EPISODE WITH KECHI OKWUCHI
Kechi Okwuchi is a singer and motivational speaker. She was one of the two survivors in the Sosoliso Airlines Flight 1145 crash on December 10, 2005 that claimed 107 lives, 60 of which were her schoolmates.  Kechi spent the next seven months in the hospital with a majority of that time in intensive care and has endured more than 100 surgeries. She credits her faith, family, friends, and singing for keeping her going. She eventually moved to America in 2007 for reconstructive surgery and later enrolled in the University of St. Thomas where she graduated summa cum laude in 2015.   
We first learned about Kechi's story when she auditioned on America's Got Talent in 2017 as a singer, and finished the competition as a finalist.  She later participated in America's Got Talent: The Champions in 2019, where Simon Cowell gave her the golden buzzer, sending her straight to the final.  We fell in love with Kechi's talent and story, and were thrilled when she agreed to be a guest on the podcast.  It's one of our favorite interviews ever, so we decided to rebroadcast it since it's been over 3 years since it was first published. 
WHAT YOU'LL LEARN
Kechi shares her tragic plane crash experience on December 10, 2005.

Why Kechi decided to audition for America's' Got Talent – and how her best friend encouraged her to join.

Why it is important to surround yourself with the best people.

Kechi explains the concept she lives by:  "Know Thyself" 

Kechi on why it is important to explore – especially for the young Big Dreamers.

Kechi's advice for kids out there who are made fun of because of their physical appearance or for any reason.

Kechi describes how she felt when when she performed in the America's Got Talent stage for the first time – and at what point in the competition she felt the least nervous.

Kechi shares some tips to all the Big Dreamers on how to overcome the days when you are just feeling down – and why it is very important to have the best support system.

Kechi's Big Dream for the future!

And so much more!
RESOURCES
Not sure where to get started?
It is as easy as 1, 2, 3.
Step 1 – Enjoy These FREE Resources:
Step 2 – Subscribe To The Dream Big Podcast
Step 3 – Connect With Our Community
Share With Eva How The Dream Big Podcast Has Impacted Your Family's Life. Eva Will Respond With A Personalized Video Message 🙂