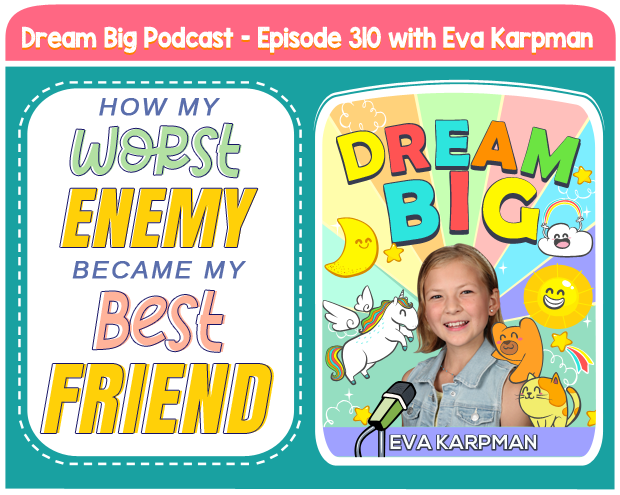 Share this: 
LISTEN TO OUR PODCAST
iTunes  |  Stitcher  |  Google Play Music  |  Soundcloud  |  iHeartRadio  |  Spotify
SOLO EPISODE FROM SOPHIA
Have you ever heard of the saying that Your Worst Enemy Could Be Your Best Friend? This is the central question for today's podcast and something that has confused and bothered Sophia for a while. I'm sure most of our Big Dreamers can relate to that too! 
In this episode, Sophia will share the story of riding the biggest rollercoaster she has ever seen in her life: the fear she felt leading up to the ride and the four strategies she used to overcome her worries, all of which ultimately allowed her to find joy in the supposedly scary rollercoaster ride!   
This episode will also see a new challenge for all of us Big Dreamers, inspired by one of our favorite quotes, which many attribute to former first lady and well-loved humanitarian Eleanor Roosevelt: "Do one thing everyday that scares you." We know how "everyday" seems like a huge task, so let's start small! Try a new thing for at least for three days, something you are unsure of and scares you. 
Let us know about your experience by emailing us at [email protected]. Also, join Sophia in her journey, and follow us on Instagram at https://instagram.com/dreambigpodcast Enjoy the episode!
Not sure where to get started?
It is as easy as 1, 2, 3.
Step 1 – Enjoy These FREE Resources:
Step 2 – Subscribe To The Dream Big Podcast
Step 3 – Connect With Our Community
Share With Eva How The Dream Big Podcast Has Impacted Your Family's Life. Eva Will Respond With A Personalized Video Message 🙂