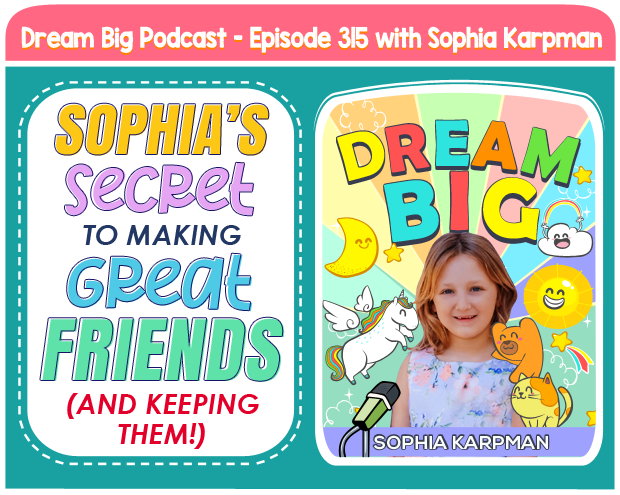 Share this: 
LISTEN TO OUR PODCAST
iTunes  |  Stitcher  |  Google Play Music  |  Soundcloud  |  iHeartRadio  |  Spotify
SOLO EPISODE FROM SOPHIA
Today, Sophia and Olga talk about one of the most important life skills that we all need to develop: making and keeping great friends. In this episode, the mother-daughter bestfriends discuss the difference between making friends and creating friendships, and how friendship takes time and effort. They also talk about the important qualities you have to look out for in choosing the people you surround yourself with.
This is such an important lesson to teach our kids at a young age, and a good reminder for the adult Big Dreamers listening as well. Enjoy!
Join Sophia in her journey, and follow us on Instagram at https://instagram.com/dreambigpodcast Enjoy the episode!
RESOURCES
Dream Big Podcast Episode 152: Back To School Challenge – Choose Positive Friends!
Not sure where to get started?
It is as easy as 1, 2, 3.
Step 1 – Enjoy These FREE Resources:
Step 2 – Subscribe To The Dream Big Podcast
Step 3 – Connect With Our Community
Share With Eva How The Dream Big Podcast Has Impacted Your Family's Life. Eva Will Respond With A Personalized Video Message 🙂