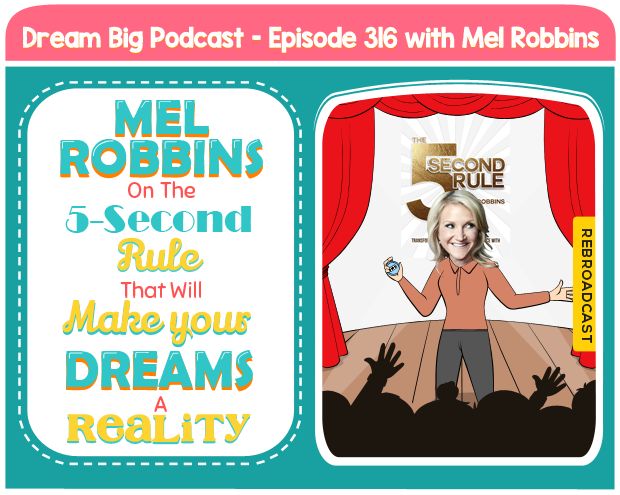 Share this: 
LISTEN TO OUR PODCAST
EPISODE WITH MEL ROBBINS
Today, we are rebroadcasting one of the most important episodes we've ever published. We are sharing Eva's interview with the amazing, Mel Robbins. She is a regular CNN contributor and author of the best-selling phenomenon 5-Second Rule. Mel is one of the most sought out speakers in the world right now and when you listen to the interview you'll understand why.  She has so much energy and so much wisdom. And the 5-Second Rule that Mel shares in our interview will be the difference between you making your Big Dreams a reality or not.  Enjoy!
WHAT YOU'LL LEARN
Mel shares the different career paths she has taken thus far in her life, and how change is a good thing.

Mel's "5-second rule" and how it can help in your daily life.

Mel talks "simple" VS "easy" and what makes them different.

Why it is important to ask ourselves "What do I really want?"

Mel's advice on how you can improve your public speaking skills.

What Mel enjoys about being a mom.

Mels' definition of success.

Mel's daily routines.

Mel's greatest achievement so far.

Mel's hobbies and the things she does for fun.

Mel's advice to her 10-year old self.

Mel's BIG DREAM for the future.
RESOURCES
Not sure where to get started?
It is as easy as 1, 2, 3.
Step 1 – Enjoy These FREE Resources:
Step 2 – Subscribe To The Dream Big Podcast
Step 3 – Connect With Our Community
Share With Eva How The Dream Big Podcast Has Impacted Your Family's Life. Eva Will Respond With A Personalized Video Message 🙂