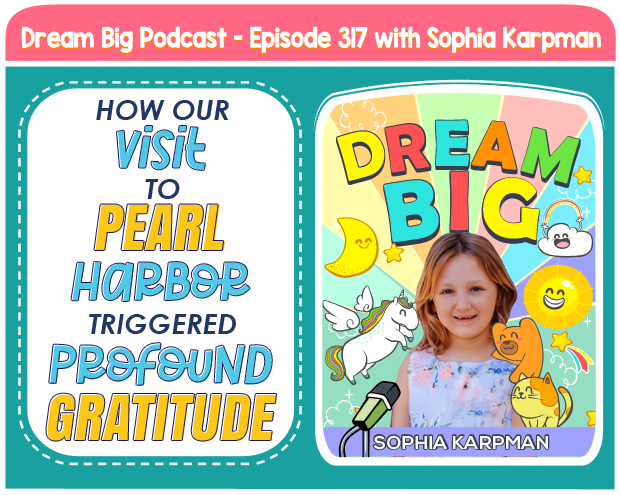 Share this: 
LISTEN TO OUR PODCAST
iTunes  |  Stitcher  |  Google Play Music  |  Soundcloud  |  iHeartRadio  |  Spotify
SOLO EPISODE FROM SOPHIA
A few weeks ago, our family visited Pearl Harbor on the island of Oahu in Hawaii. We learned so many things about this historic location, so much so that it will be the focus in this episode. Sophia and Olga share their thoughts on one of the most tragic days in the history of our country, and the amazing female heroes from that day including Ann Danyo Willgrube and Marguerite H. Gambo. 
This week, our challenge for you Big Dreamers is to learn more about our heroes. Who is your favorite? How can you help honor their legacies? You can also show appreciation to our troops by checking out Operation Gratitude. 
You can send them letters or care packages.  Even at times at peace, there are American soldiers stationed all over the world, away from their families and keeping us safe.  We're sure it will mean a lot to them. Enjoy!
RESOURCES
Not sure where to get started?
It is as easy as 1, 2, 3.
Step 1 – Enjoy These FREE Resources:
Step 2 – Subscribe To The Dream Big Podcast
Step 3 – Connect With Our Community
Share With Eva How The Dream Big Podcast Has Impacted Your Family's Life. Eva Will Respond With A Personalized Video Message 🙂