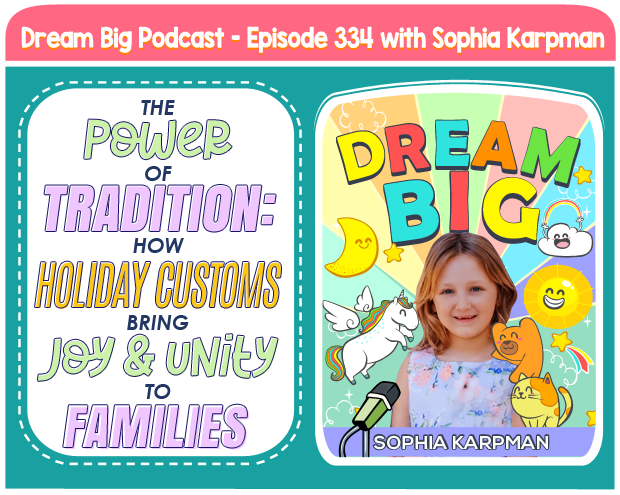 Share this: 
LISTEN TO OUR PODCAST
iTunes  |  Stitcher  |  Google Play Music  |  Soundcloud  |  iHeartRadio  |  Spotify
SOLO EPISODE FROM SOPHIA
In the United States, December is a time like no other! As soon as Thanksgiving ends, people start preparing for the winter celebrations, the holidays and more!
In today's episode, Sophia and Olga talk about family traditions – what it is, why they are so cool and very important. They also uncover some fun facts about winter holidays. They also share why it is a good reason to celebrate almost every day of the month.
If you don't have many family traditions just yet, stay tuned. Sophia will give you a bunch of ideas for new traditions that you can adopt in your family too. Enjoy the episode!
Not sure where to get started?
It is as easy as 1, 2, 3.
Step 1 – Enjoy These FREE Resources:
Step 2 – Subscribe To The Dream Big Podcast
Step 3 – Connect With Our Community
Share With Eva How The Dream Big Podcast Has Impacted Your Family's Life. Eva Will Respond With A Personalized Video Message 🙂