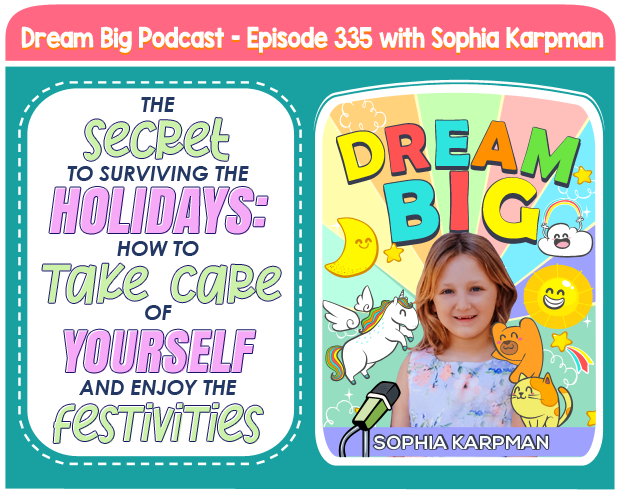 Share this: 
LISTEN TO OUR PODCAST
iTunes  |  Stitcher  |  Google Play Music  |  Soundcloud  |  iHeartRadio  |  Spotify
SOLO EPISODE FROM SOPHIA
This week's episode is inspired by a famous quote from Eleanor Brown, "Self-care is not selfish. You cannot serve from an empty vessel." Today, we are exploring the power of dreaming big and the importance of taking good care of yourself especially now, during the busy holiday season!
In this episode, Sophia and Olga share a story about a very busy bunny named Maya. Maya is always running around and doing things for other animals in the forest, so much so that she forgot to take care of herself. Tune in to this episode to find out what happened to Maya and how her friends helped her to learn the importance of self-care. Sophia also named a few people or characters from cartoons who understood the importance of self care.
Our challenge for you this week is to create your own "Self-Care Scavenger Hunt" and it's very easy! Listen to the episode to find out how! Share your experience with us, and email us at [email protected]. Enjoy the episode!
Not sure where to get started?
It is as easy as 1, 2, 3.
Step 1 – Enjoy These FREE Resources:
Step 2 – Subscribe To The Dream Big Podcast
Step 3 – Connect With Our Community
Share With Eva How The Dream Big Podcast Has Impacted Your Family's Life. Eva Will Respond With A Personalized Video Message 🙂