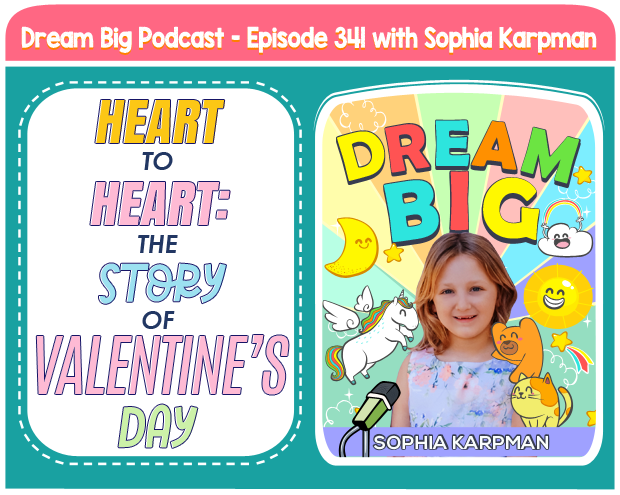 Share this:
LISTEN TO OUR PODCAST
iTunes | Stitcher | Google Play Music | Amazon Music | iHeartRadio | Spotify
SOLO EPISODE FROM SOPHIA
​​Nicholas Sparks once said, "Love is like the wind, you can't see it but you can feel it." In today's episode, Sophia and Olga will talk about the history of the love-filled holiday, Valentine's Day.
Valentine's Day is a special day that people celebrate all around the world on February 14th. It's a day to show love and affection to the people who are special to us, like our family, friends, and loved ones. But did you know that Valentine's Day has a long and interesting history? Why do we call it Valentine? Why do we send cards? What does Cupid have to do with it?
Today, Sophia and Olga share fun facts and legends about this day of love, and how Valentine's Day has become a big part of our economy and popular culture. We also have a fun challenge for you for Valentine's Day. Make sure to tune in, Big Dreamers, to find out more. Happy Valentine's Day, everyone! Spread love and enjoy!
Not sure where to get started?
It is as easy as 1, 2, 3.
Step 1 – Enjoy These FREE Resources:
Step 2 – Subscribe To The Dream Big Podcast
Step 3 – Connect With Our Community
Share With Eva How The Dream Big Podcast Has Impacted Your Family's Life. Eva Will Respond With A Personalized Video Message 🙂