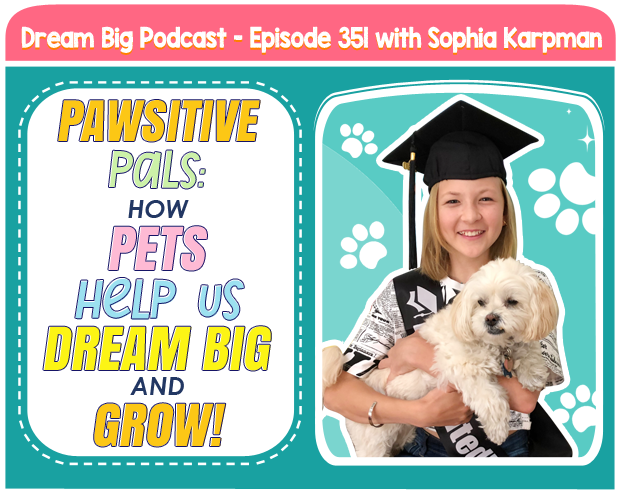 Share this:
LISTEN TO OUR PODCAST
iTunes | Stitcher | Google Play Music | Amazon Music | iHeartRadio | Spotify

Welcome to the Dream Big Podcast, the best podcast for kids and families, hosted by Sophia Karpman and Olga Karpman. In this heartwarming and educational episode titled "Pawsitive Pals: How Pets Help Us Dream Big and Grow!", we dive deep into the incredible bond between humans and pets and explore how these amazing animals help us become the best versions of ourselves.
In this pawsitively fantastic episode, you'll hear:
Fascinating facts about the history of pets and how they've evolved alongside humans

Heartwarming stories about the magical connection between pets and their owners

Surprising ways pets help us develop essential qualities for achieving our dreams and goals

The incredible impact pets have on our physical and emotional wellbeing

How pets can teach children valuable life lessons, such as responsibility, empathy, and patience
Plus much, much more!
So if you're ready for a fun and strategy-filled episode, then press play right now! Don't miss this opportunity to unleash your inner animal lover and discover the world of pets in a whole new light. Click the link to listen to the Dream Big Podcast, the best podcast for kids and families, and join Sophia Karpman on this exciting adventure!
Rate, Review, & Follow on Apple Podcasts
"You're probably the best podcast I've ever played! It calms me down when I'm nervous! ❤️"<– If that sounds like you, please consider rating and reviewing our show! This helps us support more Big Dreamers — just like you — move toward the life they desire for their family. Click here, scroll to the bottom, tap to rate with five stars, and select "Write a Review." Then be sure to let us know what you loved most about the episode!
Resources:
Shakira's Spa Day! Pampering Our Feathered Friend in Style
DB 124: The Chicken & The Eagle Story — Why You Should Choose Friends Who Are Also Big Dreamers!
DB 179: 2 Important Life Lessons We Can Learn From My Chickens!
Not sure where to get started?
It is as easy as 1, 2, 3.
Step 1 – Enjoy These FREE Resources:
Step 2 – Subscribe To The Dream Big Podcast
Step 3 – Connect With Our Community
Share With Us How The Dream Big Podcast Has Impacted Your Family's Life.