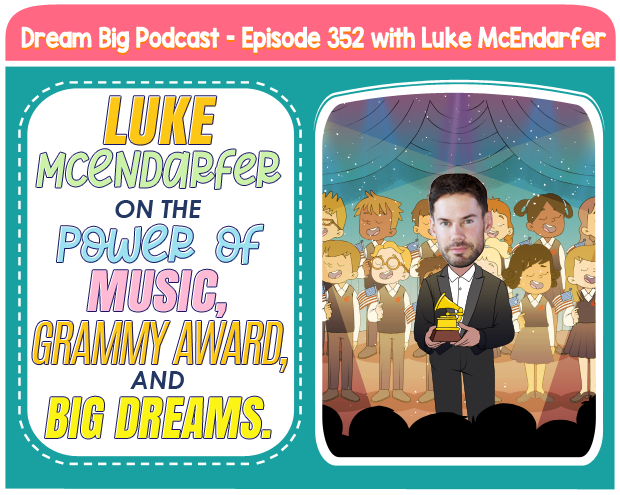 Share this: 
LISTEN TO OUR PODCAST
iTunes  |  Stitcher  |  Google Play Music  |  Amazon Music  |  iHeartRadio  |  Spotify

In this fun episode of the Dream Big Podcast, a must-listen for kids and families, host Eva Karpman interviews the GRAMMY® Award-winning conductor Luke McEndarfer. As one of the most influential figures in the choral world, Luke's career is marked by groundbreaking innovation, artistic creativity, and musical excellence. Currently, he serves as the Artistic Director, President, and CEO of the National Children's Chorus, one of the fastest-growing and most successful youth arts organizations in the United States. His collaborations include work with renowned musical ensembles and artists, such as the Los Angeles Philharmonic, American Youth Symphony, Los Angeles Master Chorale, and many more.
In this episode, Big Dreamers will explore:
Luke's passion for music and his journey to UCLA, where he secured one of only two coveted spots for conductors
What led him to found the National Children's Chorus
The unique aspects of children's choirs and how even young kids can succeed in national performances, gaining confidence for life
The 4 key areas and components crucial for a successful life
The power of music in making the world a better place and improving health and well-being
How to find true mentors in life and the importance of having a hobby
The best advice Luke would give to his 9-year-old self
The transformative changes music can bring to people's lives
Luke shares thought-provoking quotes that will encourage you to think beyond music as entertainment and consider it a therapy for people of all ages.
Don't miss this captivating episode with Eva Karpman and Luke McEndarfer, where they delve into the world of music and personal growth.
Listen now and follow the Dream Big Podcast on your preferred platform.
Remember to subscribe and follow the Dream Big Podcast on YouTube channel for more inspiring and family-friendly content.
To learn more about Luke McEndarfer, visit nationalchildrenschorus.com
Rate, Review, & Follow on Apple Podcasts
"You're probably the best podcast I've ever played! It calms me down when I'm nervous! ❤️"<– If that sounds like you, please consider rating and reviewing our show! This helps us support more Big Dreamers — just like you — move toward the life they desire for their family. Click here, scroll to the bottom, tap to rate with five stars, and select "Write a Review." Then be sure to let us know what you loved most about the episode!
Not sure where to get started?
It is as easy as 1, 2, 3.
Step 1 – Enjoy These FREE Resources:
Step 2 – Subscribe To The Dream Big Podcast
Step 3 – Connect With Our Community
Share With Us How The Dream Big Podcast Has Impacted Your Family's Life.