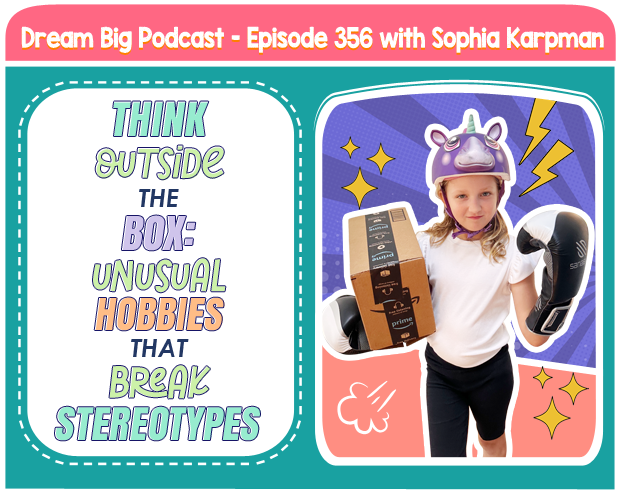 Share this:
LISTEN TO OUR PODCAST
iTunes | Stitcher | Google Play Music | Amazon Music | iHeartRadio | Spotify
Welcome to episode 356 of the Dream Big Podcast! Join Sophia and Olga Karpman as they take you on a captivating exploration of how pursuing unique interests can unlock endless possibilities and shape your extraordinary future.
Get ready to embark on an inspiring journey of breaking stereotypes and embracing the power of unusual hobbies.
In this episode, you will:
Learn why it's important to embrace your individuality and celebrate your unique talents.

Discover how unusual hobbies provide a platform to express yourself authentically.

Explore how breaking stereotypes through unusual hobbies opens up a world of limitless potential.

Hear inspiring stories of young dreamers who defied societal expectations and carved their own paths.

Uncover the valuable life lessons that unusual hobbies can teach, including resilience, creativity, and personal growth.

Understand how overcoming challenges and thinking outside the box shapes your character and skills.

Learn how embracing diversity and challenging stereotypes through unusual hobbies contributes to an inclusive society.
Join Sophia and Olga as they share inspiring stories of young dreamers who turned their unusual hobbies into remarkable achievements. Be ready to be inspired, empowered, and motivated to embrace your own unique passions and make a difference in the world.
We love hearing from our Big Dreamers and your 5 STAR REVIEW helps us improve and reach more listeners like you. So, please take a moment to leave a review on Apple Podcasts and let us know what you loved most about the episode.
Scroll to the bottom, tap to rate with five stars, and select "Write a Review." Then be sure to let us know what you loved most about the episode!
Also, if you haven't done so already, follow the podcast. We will be adding a bunch of bonus episodes to the feed and, if you're not following, there's a good chance you'll miss out.
Rate, Review, & Follow on Apple Podcasts. https://dreambigpodcast.com/itunes
You might also enjoy these episodes:
DB 179: 2 Important Life Lessons We Can Learn From My Chickens!
DB 192: Why NOW Is The Perfect Opportunity To Learn New Skills + Eva's Challenge
Not sure where to get started?
It is as easy as 1, 2, 3.
Step 1 – Enjoy These FREE Resources:
Step 2 – Subscribe To The Dream Big Podcast
Step 3 – Connect With Our Community
Share With Us How The Dream Big Podcast Has Impacted Your Family's Life.