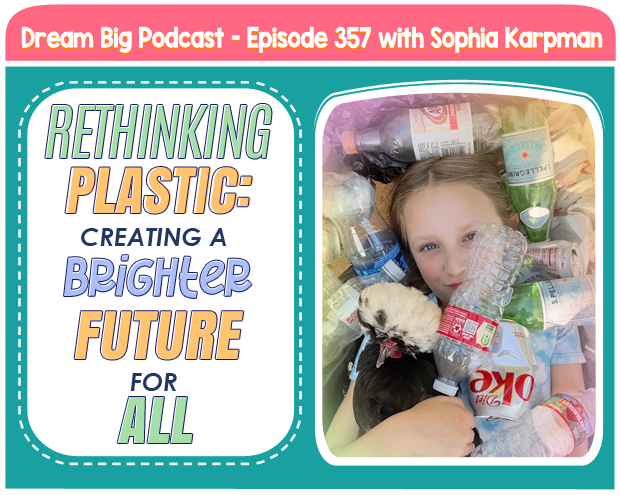 Share this: 
LISTEN TO OUR PODCAST
iTunes  |  Stitcher  |  Google Play Music  |  Amazon Music  |  iHeartRadio  |  Spotify
Big Dreamers! Can you imagine a world without plastic? A world where our beautiful oceans are free of plastic waste and our wildlife thrives without this man-made menace? In the episode #357 of the Dream Big Podcast, that's exactly what we are talking about! We are envisioning a cleaner, greener world.
With Sophia's delightful poetry, we're unraveling the impact of plastic on our beautiful planet, and brainstorming fun and practical ways to make a BIG difference. And trust us, it's an adventure for your entire family and you don't want to miss!
But, we're not just dreaming – we're doing! That's why we're challenging all our Big Dreamers to take the Plastic-Free Pledge with us! A week-long challenge that will change your perspective on plastic and empower you to protect our planet and live an eco-friendly life.
This isn't just about reducing plastic use; it's about embracing the power YOU have to make a difference. Your actions matter. And together, we can turn our dreams into reality.
So, are you ready to embark on this exciting adventure with us? Click the link above to listen to the episode now and join the Plastic-Free Pledge! Let's dream big, act big, and make a BIG difference and embrace green living!
Tag us on social media using @DreamBIgPodcast and #PlasticFreeDreamer. We can't wait to see all the creative ways you're making our world a better place!
Episodes you might also like:
DB 020: Marine Biologist Dr. Simon Berrow On Saving The Environment + The 7-Day Trash Clean-Up Challenge
DB 025: Billionaire Entrepreneur Naveen Jain On Leaving A Legacy And Our Multi-Planetary Future 
We love hearing from our Big Dreamers and your 5 STAR REVIEW  helps us improve and reach more listeners like you. So, please take a moment to leave a review on Apple Podcasts and let us know what you loved most about the episode. 
Scroll to the bottom, tap to rate with five stars, and select "Write a Review." Then be sure to let us know what you loved most about the episode!
Also, if you haven't done so already, follow the podcast. We will be adding a bunch of bonus episodes to the feed and, if you're not following, there's a good chance you'll miss out.
Rate, Review, & Follow on Apple Podcasts. https://dreambigpodcast.com/itunes
Not sure where to get started?
It is as easy as 1, 2, 3.
Step 1 – Enjoy These FREE Resources:
Step 2 – Subscribe To The Dream Big Podcast
Step 3 – Connect With Our Community
Share With Us How The Dream Big Podcast Has Impacted Your Family's Life.