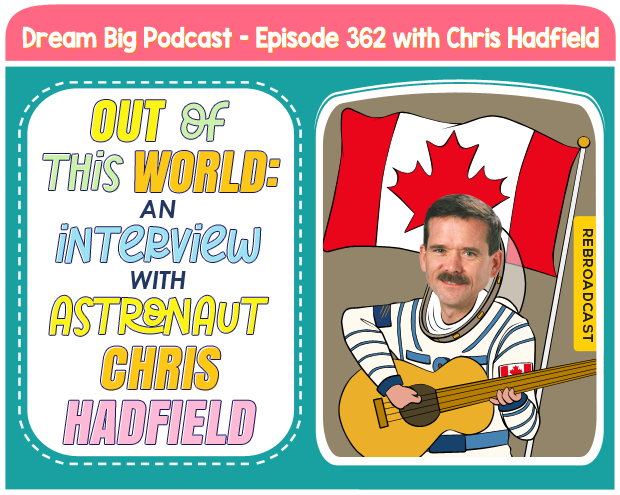 Share this:
LISTEN TO OUR PODCAST
iTunes | Stitcher | Google Play Music | Amazon Music | iHeartRadio | Spotify
In this week's Dream Big Podcast post, we're delighted to take you back to one of our most stellar episodes — our engaging interview with the iconic astronaut Chris Hadfield! In this riveting rebroadcast, we re-visit Hadfield's incredible journey from his early dreams of space exploration to becoming the first Canadian to fly in space and command the International Space Station.
As we unpack his out-of-this-world experiences, prepare to be spellbound by Chris's personal insights into what life is really like in zero gravity. Ever wondered why bread isn't on the menu for astronauts, or how long it takes to travel to the space station? Get ready for these exciting revelations and more, direct from the man who's lived it!
But our conversation isn't confined to the cosmos. Chris shares his academic journey, revealing how his studies and an unwavering dedication helped him achieve his dreams. Moreover, he opens up about his views on self-doubt, celebrating small victories, and of course, the power and importance of dreaming big.
Whether you're a long-time follower of the Dream Big Podcast or a new dreamer in our family, this rebroadcast offers an inspiring peek into the life of a person who truly dared to dream beyond the stars.
Join us on this extraordinary space journey, and who knows, you might just be inspired to reach for your own stars. Remember, the sky is just the beginning when it comes to dreaming big!
RESOURCES
We love hearing from our Big Dreamers and your 5 STAR REVIEW helps us improve and reach more listeners like you. So, please take a moment to leave a review on Apple Podcasts and let us know what you loved most about the episode.
Scroll to the bottom, tap to rate with five stars, and select "Write a Review." Then be sure to let us know what you loved most about the episode!
Also, if you haven't done so already, follow the podcast. We will be adding a bunch of bonus episodes to the feed and, if you're not following, there's a good chance you'll miss out.
Rate, Review, & Follow on Apple Podcasts. https://dreambigpodcast.com/itunes
Not sure where to get started?
It is as easy as 1, 2, 3.
Step 1 – Enjoy These FREE Resources:
Step 2 – Subscribe To The Dream Big Podcast
Step 3 – Connect With Our Community
Share With Us How The Dream Big Podcast Has Impacted Your Family's Life.