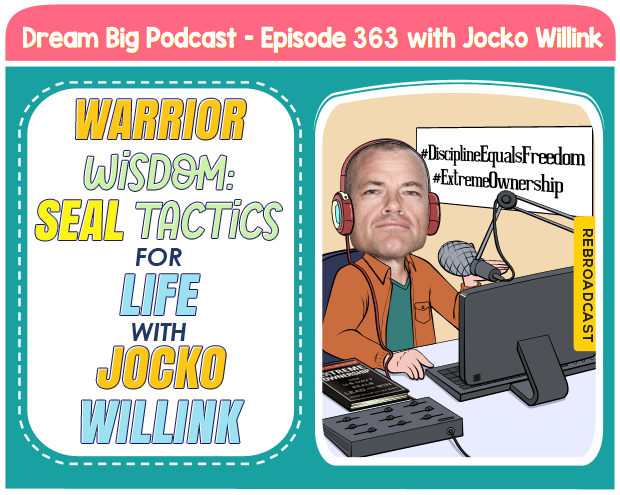 Share this: 
LISTEN TO OUR PODCAST
iTunes  |  Stitcher  |  Google Play Music  |  Amazon Music  |  iHeartRadio  |  Spotify
Embark on an enlightening journey with the decorated retired Navy SEAL officer, best-selling author, and esteemed podcast host, Jocko Willink, in our REBROADCAST Dream Big Podcast episode #363.
Jocko Willink, renowned for his exceptional 20-year service as a Navy SEAL and as the commander of SEAL Team Three, Task Unit Bruiser, now enlightens people across the globe about leadership, strategy, fitness, discipline, and much more. As the author of the popular Way Of The Warrior Kid book series and host of two influential podcasts – the adult-targeted 'Jocko Podcast' and the family-friendly 'Way Of The Warrior Kid Podcast,' Jocko continues to inspire, motivate, and educate.
In this exclusive interview with Eva Karpman, we deep dive into the life and philosophy of Jocko. You'll discover Jocko's early life, the reasons that inspired him to join the military, and the incredible acts of heroism he witnessed on the battlefield. We further delve into his views on discipline, his definition of 'Extreme Ownership,' and why it's never too early to start instilling discipline.
Jocko also unveils his softer, more sensitive side and offers invaluable advice to his 10-year-old self. He talks about overcoming fears and doubts, and the crucial traits that have helped him actualize his dreams. As an added bonus, he gives a sneak peek into his book, 'Mikey and the Dragon.'
Tune in to the Dream Big Podcast and unlock transformative insights from Jocko Willink that can change the course of your life.
RESOURCES
We love hearing from our Big Dreamers and your 5 STAR REVIEW  helps us improve and reach more listeners like you. So, please take a moment to leave a review on Apple Podcasts and let us know what you loved most about the episode. 
Scroll to the bottom, tap to rate with five stars, and select "Write a Review." Then be sure to let us know what you loved most about the episode!
Also, if you haven't done so already, follow the podcast. We will be adding a bunch of bonus episodes to the feed and, if you're not following, there's a good chance you'll miss out.
Rate, Review, & Follow on Apple Podcasts. https://dreambigpodcast.com/itunes
Not sure where to get started?
It is as easy as 1, 2, 3.
Step 1 – Enjoy These FREE Resources:
Step 2 – Subscribe To The Dream Big Podcast
Step 3 – Connect With Our Community
Share With Us How The Dream Big Podcast Has Impacted Your Family's Life.