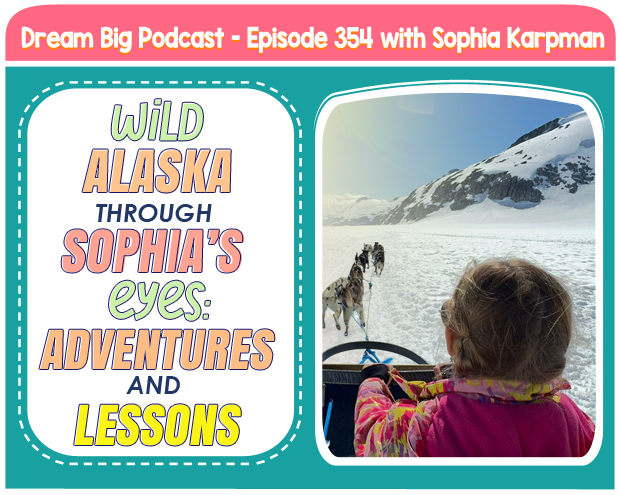 Share this: 
LISTEN TO OUR PODCAST
iTunes  |  Stitcher  |  Google Play Music  |  Amazon Music  |  iHeartRadio  |  Spotify
Get ready, Big Dreamers, for an icy-cool adventure as we take you on a journey through the mesmerizing lands of Alaska! Your host, Sophia Karpman, has just returned from a fantastic adventure that involved everything from cruising icy waters to dog-sledding on glistening glaciers, flying helicopters, and kayaking on chilly lakes. 
This 364 th episode of the Dream Big Podcast is a gold mine of thrilling anecdotes, awe-inspiring experiences, and profound life lessons from Sophia's Alaskan adventures. 
But that's not all! Sophia and Olga Karpman offer a fresh perspective on the concept of adventures and travel, showing that they are not always tied to big budgets or exotic locales. Taking inspiration from Olga''s stories of her childhood in Siberia, in this episode we emphasize the idea that adventures are more about the spirit of exploration, and less about where or how you embark on them. 
This episode promises to be a thrilling roller-coaster ride full of stunning landscapes, fascinating creatures, captivating stories, and much more. So buckle up, and get ready to be inspired to dream big, be curious, and step out of your comfort zone to embrace the magical world of adventures!"
We love hearing from our Big Dreamers and your 5 STAR REVIEW  helps us improve and reach more listeners like you. So, please take a moment to leave a review on Apple Podcasts and let us know what you loved most about the episode. 
Scroll to the bottom, tap to rate with five stars, and select "Write a Review." Then be sure to let us know what you loved most about the episode!
Also, if you haven't done so already, follow the podcast. We will be adding a bunch of bonus episodes to the feed and, if you're not following, there's a good chance you'll miss out.
Rate, Review, & Follow on Apple Podcasts. https://dreambigpodcast.com/itunes
Not sure where to get started?
It is as easy as 1, 2, 3.
Step 1 – Enjoy These FREE Resources:
Step 2 – Subscribe To The Dream Big Podcast
Step 3 – Connect With Our Community
Share With Us How The Dream Big Podcast Has Impacted Your Family's Life.