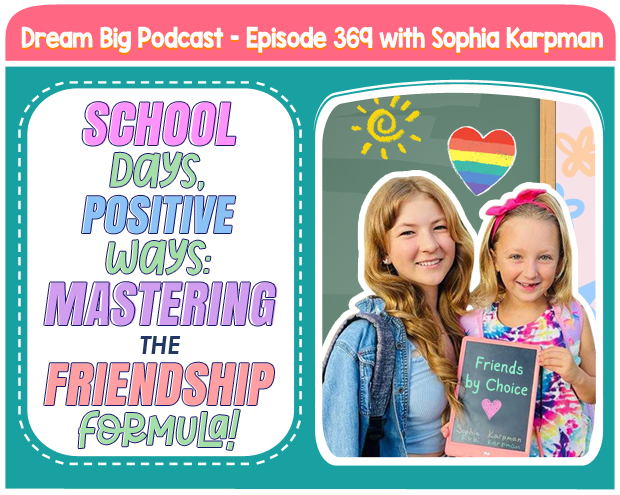 Share this: 
LISTEN TO OUR PODCAST

iTunes  |  Stitcher  |  Google Play Music  |  Amazon Music  |  iHeartRadio  |  Spotify
Hey Big Dreamers! Guess what? We're taking a little trip down memory lane with a rebroadcast of one of Eva's faves on the Dream Big Podcast. https://dreambigpodcast.com/369
Remember the early days of school, figuring out which lunch table to sit at? Eva's got a fun challenge for all you students out there! In this episode, she's dishing out some real talk about choosing buddies who bring all the good vibes. And, you know Eva, she's got the science to back it up. But she also keeps it real about what happens if you hang with the not-so-sunny crowd. Whether you're heading into the classroom or just need a refresher on surrounding yourself with the right peeps, this episode's for you. So, tune in and kick off this school year with all the positivity! Enjoy!
We love hearing from our Big Dreamers and your 5 STAR REVIEW  helps us improve and reach more listeners like you. So, please take a moment to leave a review on Apple Podcasts and let us know what you loved most about the episode. 
Scroll to the bottom, tap to rate with five stars, and select "Write a Review." Then be sure to let us know what you loved most about the episode!
Also, if you haven't done so already, follow the podcast. We will be adding a bunch of bonus episodes to the feed and, if you're not following, there's a good chance you'll miss out. 
Rate, Review, & Follow on Apple Podcasts. https://dreambigpodcast.com/itunes
Join Dream Big Podcast on Social:
Instagram: https://www.instagram.com/dreambigpodcast/
Youtube: https://www.youtube.com/@dreambig.podcast
Tik-Tok: https://www.tiktok.com/@dreambigpodcast
Twitter: https://twitter.com/dreambigpod
Facebook: https://www.facebook.com/dreambigpodcast
Not sure where to get started?
It is as easy as 1, 2, 3.
Step 1 – Enjoy These FREE Resources:
Step 2 – Subscribe To The Dream Big Podcast
Step 3 – Connect With Our Community
Share With Us How The Dream Big Podcast Has Impacted Your Family's Life.