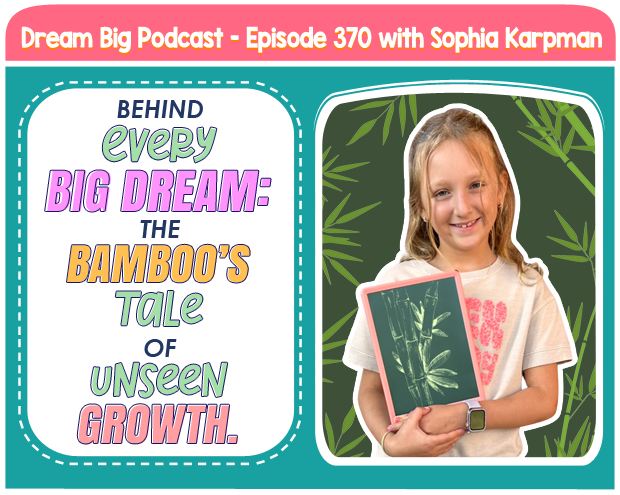 Share this: 
LISTEN TO OUR PODCAST

iTunes  |  Stitcher  |  Google Play Music  |  Amazon Music  |  iHeartRadio  |  Spotify
Dive into a 'Dream Big Podcast' classic! As Eva and Sophia Karpman, in a delightful cameo from when she was just 3 years old, are settling in after their summer travels, we've rebroadcasted one of our favorite episode for our amazing Big Dreamers. Over the years, our podcast has hosted legends from Kobe Bryant to General Stanley McCrystal and Melissa Hartwig. The recurring theme? The unwavering pursuit of big dreams and the challenges and triumphs that accompany such journeys.
In this episode, Eva unveils a profound analogy that encapsulates the essence of perseverance and dedication. Discover the captivating story of the Chinese Bamboo Tree, as told by the master storyteller, Les Brown. It's a tale our 'Big Dreamers' community shouldn't miss! Make sure to catch the original 3-minute video by Les Brown, a narrative that inspired us immensely."
We love hearing from our Big Dreamers and your 5 STAR REVIEW  helps us improve and reach more listeners like you. So, please take a moment to leave a review on Apple Podcasts and let us know what you loved most about the episode. 
Scroll to the bottom, tap to rate with five stars, and select "Write a Review." Then be sure to let us know what you loved most about the episode!
Also, if you haven't done so already, follow the podcast. We will be adding a bunch of bonus episodes to the feed and, if you're not following, there's a good chance you'll miss out. 
Rate, Review, & Follow on Apple Podcasts. https://dreambigpodcast.com/itunes
 RESOURCES
Join Dream Big Podcast on Social:
Instagram: https://www.instagram.com/dreambigpodcast/
Youtube: https://www.youtube.com/@dreambig.podcast
Tik-Tok: https://www.tiktok.com/@dreambigpodcast
Twitter: https://twitter.com/dreambigpod
Facebook: https://www.facebook.com/dreambigpodcast
Not sure where to get started?
It is as easy as 1, 2, 3.
Step 1 – Enjoy These FREE Resources:
Step 2 – Subscribe To The Dream Big Podcast
Step 3 – Connect With Our Community
Share With Us How The Dream Big Podcast Has Impacted Your Family's Life.