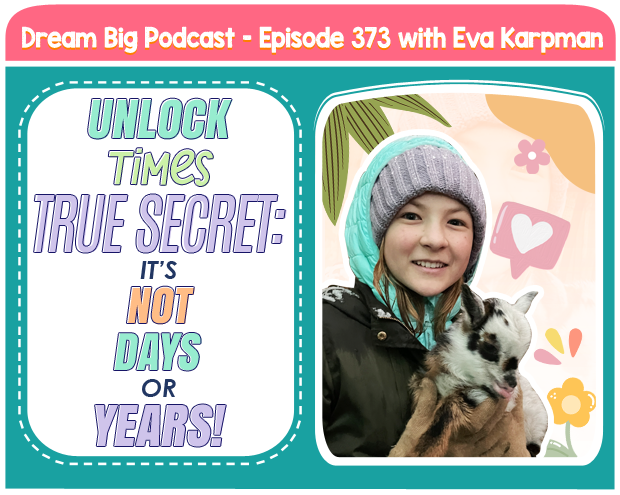 Share this: 
LISTEN TO OUR PODCAST

iTunes  |  Stitcher  |  Google Play Music  |  Amazon Music  |  iHeartRadio  |  Spotify
In our relentless chase against the clock, we often forget that time isn't just about ticking seconds, minutes, or hours. It's about memories that make us feel alive. In one transformative weekend, Eva Karpman and the family, unraveled a profound revelation about time. From the snow-covered terrains of San Bernardino mountains to the delightful joy of holding baby goats, learning crafts, and sledding under starlit skies, Eva's weekend felt more like a month. Dive into this introspective journey, where Eva decodes the secret of slowing down time. Discover how our perception of time can change when we design and immerse ourselves in magical moments. Join Eva in redefining time, not as we know it, but as moments that make us truly live.
In this episode, Eva shares many fun stories from our magical weekend, from sledding at night to holding baby goats to learning how to sew.  She also shared how all Big Dreamers can slow down time by designing magical moments with your loved ones.  Be sure to check out our cousins instagram @purely.living.homestead to learn more about farm animals and gardening – and thank you for a weekend filled with countless memories that we will never forget! 

We love hearing from our Big Dreamers and your 5 STAR REVIEW  helps us improve and reach more listeners like you. So, please take a moment to leave a review on Apple Podcasts and let us know what you loved most about the episode. 
Scroll to the bottom, tap to rate with five stars, and select "Write a Review." Then be sure to let us know what you loved most about the episode!
Also, if you haven't done so already, follow the podcast. We will be adding a bunch of bonus episodes to the feed and, if you're not following, there's a good chance you'll miss out. 
Rate, Review, & Follow on Apple Podcasts. https://dreambigpodcast.com/itunes
Not sure where to get started?
It is as easy as 1, 2, 3.
Step 1 – Enjoy These FREE Resources:
Step 2 – Subscribe To The Dream Big Podcast
Step 3 – Connect With Our Community
Share With Us How The Dream Big Podcast Has Impacted Your Family's Life.