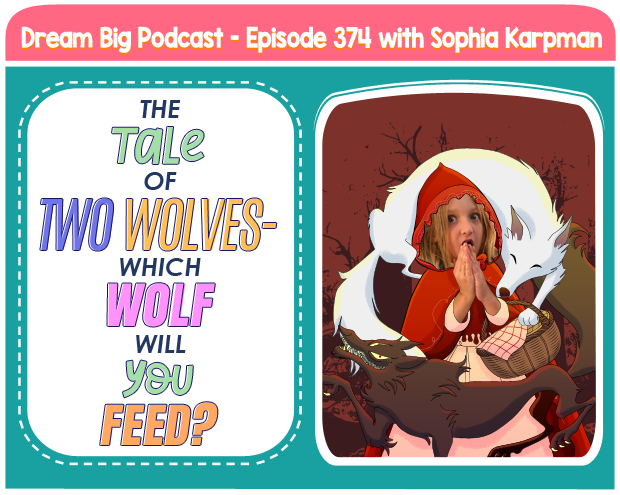 Share this: 
LISTEN TO OUR PODCAST

iTunes  |  Stitcher  |  Google Play Music  |  Amazon Music  |  iHeartRadio  |  Spotify
Big Dreamers, fasten your seat belts for a magical journey with Episode 374 of the Dream Big Podcast!  Jump in as your hosts, guide you through a mystical world where two intriguing wolves, the jubilant Mr. Happy Wolf and the gloomy Mr. Grumpy Wolf, dwell within us! Are you ready to find out which wolf you're feeding and leading your way?
In this enchanting episode, you'll unveil:
A captivating exploration into the epic battle between our inner joyful and sour selves, uncovering which of these energies truly drive our actions and feelings.

An immersive journey into the ageless wisdom of Native American folklore, revealing the eternal dance between love, joy, anger, and jealousy.

The transformational power of choices, kindness, and the secret to a Happy Wolf kind of day!
Embrace the allure, dissect the profound, and relish in the unexpected surprises and touching moments woven within this story. This episode is sprinkled with delightful humor, enlightening lessons, and the unique Dream Big sparkle.
Dive into the Dream Big community, share your experiences, and refine your ability to choose, think, and spread joy. This tale is more than just words; it's a beacon of wisdom and a celebration of choice and kindness.
Ready to plunge into the magic and discover which wolf you're feeding? Jump in, and let's unfold the mysteries together! Unravel the joy, embrace the wisdom, and let your Happy Wolf lead the way! 

We love hearing from our Big Dreamers and your 5 STAR REVIEW  helps us improve and reach more listeners like you. So, please take a moment to leave a review on Apple Podcasts and let us know what you loved most about the episode. 
Scroll to the bottom, tap to rate with five stars, and select "Write a Review." Then be sure to let us know what you loved most about the episode!
Also, if you haven't done so already, follow the podcast. We will be adding a bunch of bonus episodes to the feed and, if you're not following, there's a good chance you'll miss out. 
Rate, Review, & Follow on Apple Podcasts. https://dreambigpodcast.com/itunes
Not sure where to get started?
It is as easy as 1, 2, 3.
Step 1 – Enjoy These FREE Resources:
Step 2 – Subscribe To The Dream Big Podcast
Step 3 – Connect With Our Community
Share With Us How The Dream Big Podcast Has Impacted Your Family's Life.