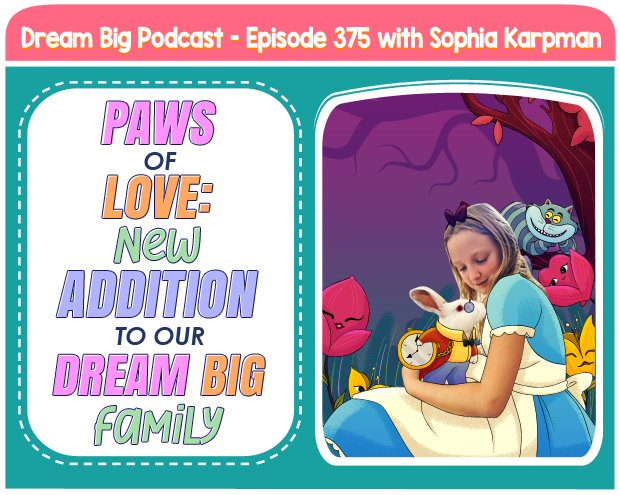 Share this: 
LISTEN TO OUR PODCAST

iTunes  |  Stitcher  |  Google Play Music  |  Amazon Music  |  iHeartRadio  |  Spotify
Welcome to a magical ride on Episode 375 of the Dream Big Podcast! Join your hosts, Sophia and Olga Karpman, as we unravel a story full of stars, seas, and sweet bunny cuddles! Are you all set to dive deep into magical tales and adorable adventures with us?
In this sparkling episode, you'll explore: A charming story of kindness on a magical beach, where starfish whisper secrets of the ocean and old men throw love into the waves.  The journey of a little, white, fluffy bunny from being a shelter sweetheart to becoming the newest member of the Karpman's family, spreading joy and love! Our exciting weekend tales and the sweet little acts of love that can make the big world a happy and caring place!
Jump into the Dream Big community and share your magical acts of kindness! Let's fill our days with love, laughter, and little starry and fluffy friends!
Ready to spread some love and kindness? Let's jump in and make the world sparkle with our acts of love and tales of fluffy joy! Embrace the charm, share the love, and let's create a world filled with Happy Bunnies and Sparkling Stars!

We love hearing from our Big Dreamers and your 5 STAR REVIEW  helps us improve and reach more listeners like you. So, please take a moment to leave a review on Apple Podcasts and let us know what you loved most about the episode. 
Scroll to the bottom, tap to rate with five stars, and select "Write a Review." Then be sure to let us know what you loved most about the episode!
Also, if you haven't done so already, follow the podcast. We will be adding a bunch of bonus episodes to the feed and, if you're not following, there's a good chance you'll miss out. 
Rate, Review, & Follow on Apple Podcasts. https://dreambigpodcast.com/itunes
Not sure where to get started?
It is as easy as 1, 2, 3.
Step 1 – Enjoy These FREE Resources:
Step 2 – Subscribe To The Dream Big Podcast
Step 3 – Connect With Our Community
Share With Us How The Dream Big Podcast Has Impacted Your Family's Life.