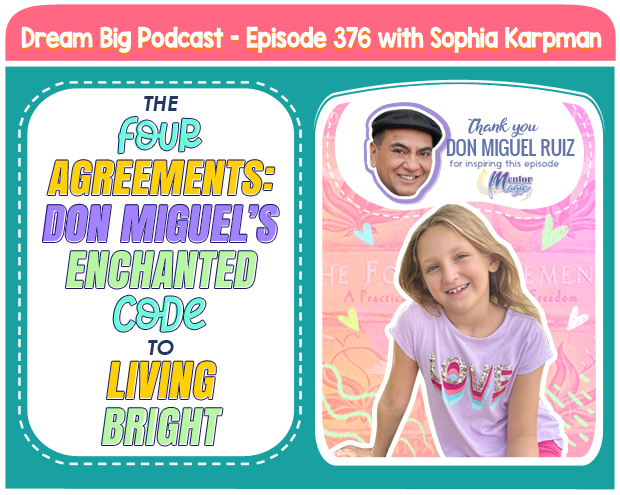 Share this: 
LISTEN TO OUR PODCAST

iTunes  |  Stitcher  |  Google Play Music  |  Amazon Music  |  iHeartRadio  |  Spotify
Journey with us into a world of enchantment and wisdom! In this radiant episode, join Sophia and Olga as they unravel the ancient secrets of the Toltec wisdom contained within the pages of "The Four Agreements" by Don Miguel Ruiz. Together, we'll explore these magical promises and see how they can become our own secret codes to a life filled with happiness, love, and wonder. Whether you're young or just young at heart, this episode is a golden key that promises to unlock doors to understanding, joy, and self-love. Dive into a heartwarming dialogue filled with shimmering insights, delightful stories, and a sprinkle of magical stardust.
We love hearing from our Big Dreamers and your 5 STAR REVIEW  helps us improve and reach more listeners like you. So, please take a moment to leave a review on Apple Podcasts and let us know what you loved most about the episode. 
Scroll to the bottom, tap to rate with five stars, and select "Write a Review." Then be sure to let us know what you loved most about the episode!
Also, if you haven't done so already, follow the podcast. We will be adding a bunch of bonus episodes to the feed and, if you're not following, there's a good chance you'll miss out. 
Rate, Review, & Follow on Apple Podcasts. https://dreambigpodcast.com/itunes
Not sure where to get started?
It is as easy as 1, 2, 3.
Step 1 – Enjoy These FREE Resources:
Step 2 – Subscribe To The Dream Big Podcast
Step 3 – Connect With Our Community
Share With Us How The Dream Big Podcast Has Impacted Your Family's Life.