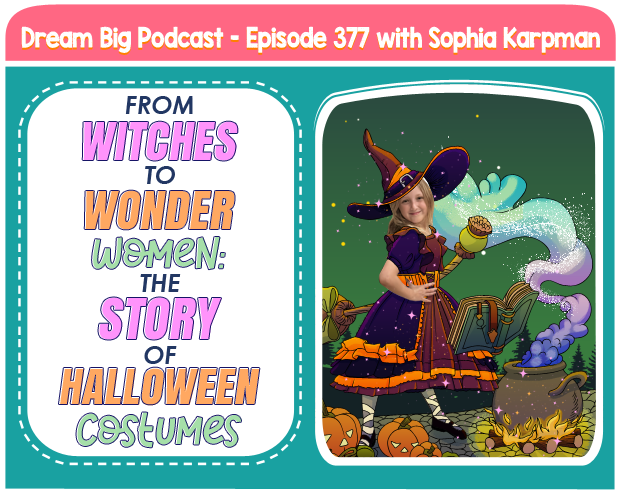 Share this: 
LISTEN TO OUR PODCAST

iTunes  |  Stitcher  |  Google Play Music  |  Amazon Music  |  iHeartRadio  |  Spotify
Dive deep into the magical realm of Halloween with Sophia and Olga Karpman on the "Dream Big Podcast." Episode 377 is nothing short of enchanting! From the whispers of ancient Celts and their eerie beliefs to the fashionable strides of witches through time and superheroes' evolution from comic books to our modern-day Halloween streets, there's a story for everyone.
Venture into the world of the 20th century's most iconic costumes, learn about Halloween themes birthed by legends like Edith Head, John Carpenter, and Tim Burton, and delight in a whimsical riddle revealing Sophia's costume choice – hinting at a timeless tale involving a playful hop and a mysterious rabbit hole.
But the magic doesn't stop there! This episode promises more than mere tales; it's a journey through time, spellbinding for listeners of all ages. So, fellow Big Dreamers, as the season of spooks and sparkles envelops us, embrace your uniqueness and let your dreams shimmer this Halloween.
Dive into the enchantment now! Episode 377
Your Feedback Matters! Share your thoughts, leave a 5 STAR REVIEW, and help the Dream Big Podcast soar even higher! Rate, Review, & Follow on Apple Podcasts.
Looking for More Halloween Magic? Dive into a world filled with treats, jokes, and more with our Spooky Halloween Episode!
Stay Connected with Dream Big Podcast:
Not sure where to get started?
It is as easy as 1, 2, 3.
Step 1 – Enjoy These FREE Resources:
Step 2 – Subscribe To The Dream Big Podcast
Step 3 – Connect With Our Community
Share With Us How The Dream Big Podcast Has Impacted Your Family's Life.