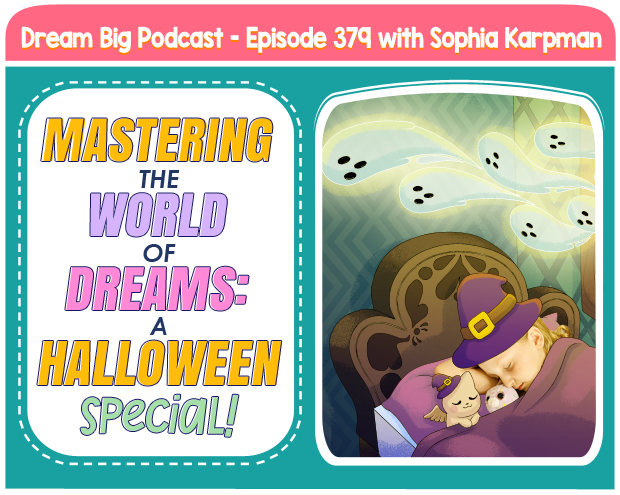 Share this:
LISTEN TO OUR PODCAST

iTunes | Stitcher | Google Play Music | Amazon Music | iHeartRadio | Spotify
Dive deep into the mystical realm of dreams with Sophia and Olga Karpman in the latest episode #379 of the Dream Big Podcast! Unravel the enigmas of ancient beliefs, discover the power of the mind in shaping nocturnal narratives, and gain insights on turning nightmares into empowering tales. Drawing inspiration from anecdotes like Paul McCartney's dream-spawned melodies and brimming with actionable tips, from dream journals to REM sleep, this episode promises a spellbinding journey through nighttime tales. Join us now and harness the magic of dreams this Halloween season!
What You'll Discover:
The ancient beliefs surrounding dreams as messages from the gods and predictors of the future.
The captivating tale of Paul McCartney's dream-inspired creation of the song "Yesterday."
Understanding nightmares: Their origins and their place as the "shadow monsters" of our sleep.
Practical strategies to guide dreams towards positive narratives, including dream journals and reality checks.
The science of REM sleep, elucidated with how our eyes "dance" during vivid dream sequences.
Fun and imaginative approaches to transforming nightmares into empowering or hilarious dreams.
The universality of dreams: An exploration into the shared experience of dreaming across cultures and ages.
Whether you're an 8-year-old dreamer seeking nocturnal adventures or a parent looking to understand the hidden tales of slumber, the world of dreams offers endless wonders. Let's remember that our dreams, like our aspirations, hold powerful keys to our imagination and potential. With every dream, there's a new story, a fresh lesson, and an exciting adventure waiting. So this Halloween season, let's celebrate not just the festivities but also the boundless world of dreams. Dive in, explore, and always dream big!
You might also like:
DB 377: From Witches To Wonder Women: The Story of Halloween Costumes
DB 374: The Tale of Two Wolves – Which Wolf Will You Feed?
DB 327: A Spooky Halloween Episode With Treats, Jokes And More

We love hearing from our Big Dreamers and your 5 STAR REVIEW helps us improve and reach more listeners like you. So, please take a moment to leave a review on Apple Podcasts and let us know what you loved most about the episode.
Scroll to the bottom, tap to rate with five stars, and select "Write a Review." Then be sure to let us know what you loved most about the episode!
Also, if you haven't done so already, follow the podcast. We will be adding a bunch of bonus episodes to the feed and, if you're not following, there's a good chance you'll miss out.
Rate, Review, & Follow on Apple Podcasts. https://dreambigpodcast.com/itunes
Join Dream Big Podcast on Social:
Instagram: https://www.instagram.com/dreambigpodcast/
Youtube: https://www.youtube.com/@dreambig.podcast
Tik-Tok: https://www.tiktok.com/@dreambigpodcast
Twitter: https://twitter.com/dreambigpod
Facebook: https://www.facebook.com/dreambigpodcast
Not sure where to get started?
It is as easy as 1, 2, 3.
Step 1 – Enjoy These FREE Resources:
Step 2 – Subscribe To The Dream Big Podcast
Step 3 – Connect With Our Community
Share With Us How The Dream Big Podcast Has Impacted Your Family's Life.