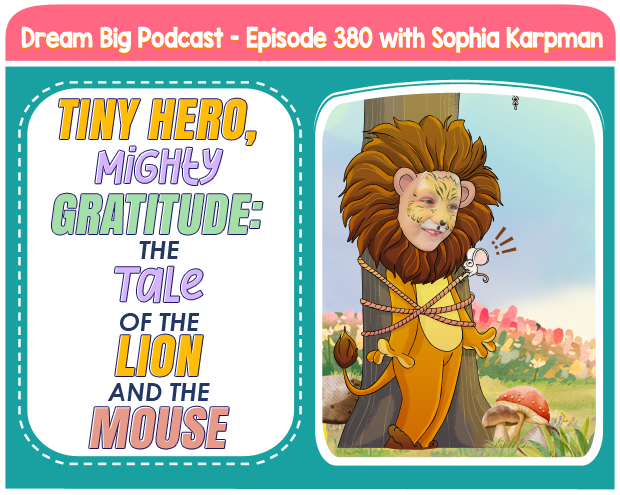 Share this: 
LISTEN TO OUR PODCAST

iTunes  |  Stitcher  |  Google Play Music  |  Amazon Music  |  iHeartRadio  |  Spotify
Are you ready for an adventure where size is just a number, and courage is king? Join hosts Sophia and Olga Karpman on a thrilling safari in Episode #380 of the Dream Big Podcast, where the smallest creatures teach the biggest lessons!
In this episode:
Discover how Sophia and Olga put a fresh twist on the beloved fable "The Lion and the Mouse."

Learn why even the tiniest individuals have the power to make a gigantic splash.

Uncover the surprising ways a new friendship can turn the world upside down.

Find out how a heartfelt "thank you" can brighten the savannah and beyond.
This episode is not just a story—it's a celebration of kindness, bravery, and the unexpected friendships that change us forever. So, gather your loved ones, and get set for a story that proves kindness is the real king of the jungle. Press play and let the heartwarming tale of tiny paws and mighty roars inspire you to dream bigger and act kinder in the Dream Big Podcast!
Recommended Episodes:
We Adore Our Big Dreamers: Your 5-star reviews help us grow and inspire more listeners like you. Please drop us a review on Apple Podcasts and share what you loved about this episode. It's easy—scroll down, hit the five stars, and click "Write a Review." Tell us about your favorite moment from this wild and heartening story!
Don't forget to follow us! We've got a treasure trove of bonus episodes coming your way, and followers always get the first listen. Don't miss out on any adventures—follow, rate, and review at https://dreambigpodcast.com/itunes.
Join Dream Big Podcast on Social:
Instagram: https://www.instagram.com/dreambigpodcast/
Youtube: https://www.youtube.com/@dreambig.podcast
Tik-Tok: https://www.tiktok.com/@dreambigpodcast
Twitter: https://twitter.com/dreambigpod
Facebook: https://www.facebook.com/dreambigpodcast
Not sure where to get started?
It is as easy as 1, 2, 3.
Step 1 – Enjoy These FREE Resources:
Step 2 – Subscribe To The Dream Big Podcast
Step 3 – Connect With Our Community
Share With Us How The Dream Big Podcast Has Impacted Your Family's Life.