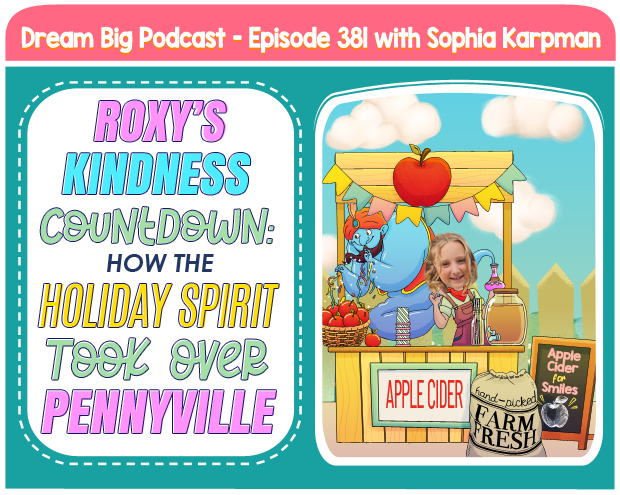 Share this: 
LISTEN TO OUR PODCAST

iTunes  |  Stitcher  |  Google Play Music  |  Amazon Music  |  iHeartRadio  |  Spotify
Join the Karpman duo, Sophia and Olga, on a heartwarming journey in Episode #381 of the Dream Big Podcast, landing on a day when kindness is celebrated nationwide—National Kindness Day! Roxy, Pennyville's beloved rockstar, along with her pal Ginnie, is stirring up a kindness revolution, and you're invited to be part of the magic.
What to Expect:
A whimsical return to Pennyville, ignited by Roxy and Ginnie's mission to spread cheer and goodwill.

Discover the power of a Kindness Countdown challenge and how it transforms an entire town.

Learn through stories how acts of kindness, big or small, can have a profound impact.

Engage with Sophia and Olga's call to action, encouraging each of us to contribute to a wave of kindness.
This episode isn't just a narrative—it's a movement. It's an invitation to join hands with Roxy and Ginnie and make kindness the anthem of our lives. So gather your family members and friends, press play, and let's sprinkle kindness like confetti in Pennyville and beyond!

We love hearing from our Big Dreamers and your 5 STAR REVIEW  helps us improve and reach more listeners like you. So, please take a moment to leave a review on Apple Podcasts and let us know what you loved most about the episode. 
Scroll to the bottom, tap to rate with five stars, and select "Write a Review." Then be sure to let us know what you loved most about the episode!
Also, if you haven't done so already, follow the podcast. We will be adding a bunch of bonus episodes to the feed and, if you're not following, there's a good chance you'll miss out. 
Rate, Review, & Follow on Apple Podcasts. https://dreambigpodcast.com/itunes
Join Dream Big Podcast on Social:
Instagram: https://www.instagram.com/dreambigpodcast/
Youtube: https://www.youtube.com/@dreambig.podcast
Tik-Tok: https://www.tiktok.com/@dreambigpodcast
Twitter: https://twitter.com/dreambigpod
Facebook: https://www.facebook.com/dreambigpodcast
Not sure where to get started?
It is as easy as 1, 2, 3.
Step 1 – Enjoy These FREE Resources:
Step 2 – Subscribe To The Dream Big Podcast
Step 3 – Connect With Our Community
Share With Us How The Dream Big Podcast Has Impacted Your Family's Life.