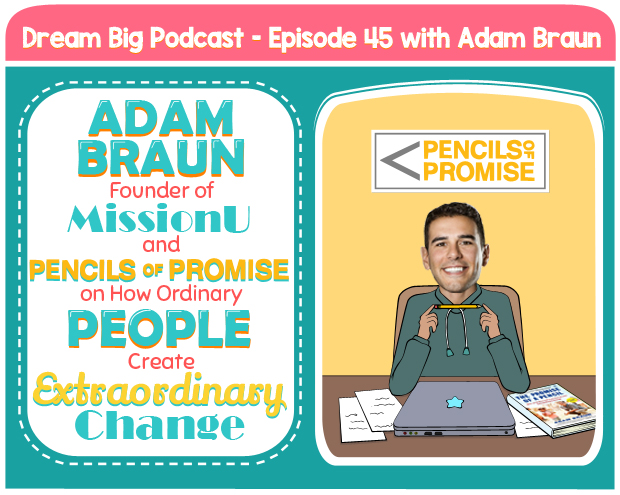 LISTEN TO OUR PODCAST
Subscribe and listen to the DREAM BIG Podcast on: iTunes, Stitcher, Google Play Music, Soundcloud, iHeartRadio
TODAY'S GUEST
This week, we are honored to have Adam Braun as our guest.   Adam is a New York Times bestselling author and the Founder & CEO of MissionU.  He was previously Founder & CEO of Pencils of Promise, the award-winning organization that has built over 400 schools around the world.
Adam has been featured as a speaker at The White House, the United Nations and the Clinton Global Initiative. He has also been named to Business Insider's 40 Under 40, Wired Magazine's 50 People Who Are Changing the World, and was selected as one of the World Economic Forum's original ten Global Shapers.
In the episode, Adam shares the inspirational story behind why he created Pencils of Promise, and also shares his new big dream of fixing our broken higher education system, which is his focus now as CEO of MissionU.
We are so grateful that he took the time out of his very busy schedule to chat with us.  Thank you Adam!
WHAT YOU'LL LEARN
How Pencils of promise started and how it got to where it is today (over 400 schools built!).

The inspiring story behind the name of "Pencils of Promise"

The huge vision of Adam's new company, MissionU and how you can get in the program.

The innovative people involved in MissionU.

How Adam overcame his fear of public speaking.

Adam's

Big Dream

for the future.

The one trait Adam has that helped him make his dreams a reality.

And so much more!
RESOURCES
THANK YOU FOR LISTENING — SUBSCRIBE & LEAVE A HONEST REVIEW. GET FREE PERSONALIZED STICKERS!
To get Dream Big episodes sent directly to your device as they are published, you can subscribe:
Subscribe and listen to the DREAM BIG Podcast on: iTunes, Stitcher, Google Play Music, Soundcloud, iHeartRadio
If you received value from our podcast, we would greatly appreciate if you could take a minute to leave us a review on iTunes review on iTunes here. This helps us get more exposure for the podcast and in turn allows us to inspire more people to dream big. We read each and every review and are so grateful to our listeners who have taken the time to write us one. For a limited time only, as a way to say thank you for taking the time to leave an honest review, we will mail you 48 free personalized stickers!  Follow the instructions at DreamBigPodcast.com/bonus to get your free stickers!
Thanks again for all of your amazing support.
Share this: