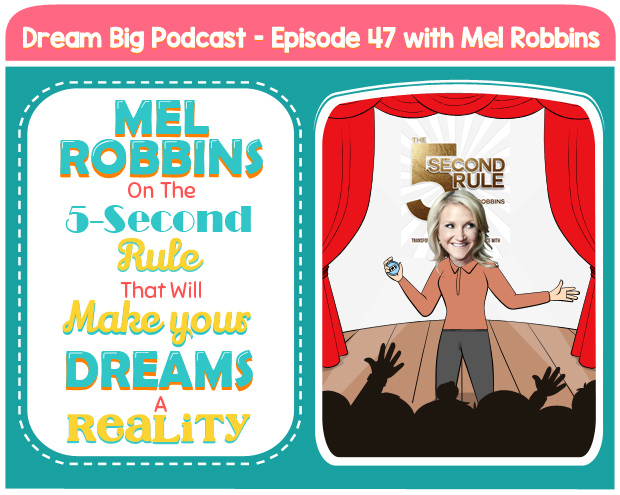 Share this: 
LISTEN TO OUR PODCAST
Subscribe and listen to the DREAM BIG Podcast on: iTunes, Stitcher, Google Play Music, Soundcloud, iHeartRadio
TODAY'S GUEST
Eva and I are so blessed to introduce our Big Dreamers to Mel Robbins, although I'm sure many of you already are familiar with Mel's work.  A regular CNN contributor and author of the best-selling phenomenon 5-Second Rule, Mel is one of the most sought out speakers in the world right now and when you listen to the interview you'll understand why.  She has so much energy and so much wisdom. And the 5-Second Rule that Mel shares in our interview will be the difference between you making your Big Dreams a reality or not.    So this may be the most important episode we've ever published!
WHAT YOU'LL LEARN
Mel shares the different career paths she has taken thus far in her life, and how change is a good thing.

Mel's "5-second rule" and how it can help in your daily life.

Mel talks "simple" VS "easy" and what makes them different.

Why it is important to ask ourselves "What do I really want?"

Mel's advice on how you can improve your public speaking skills.

What Mel enjoys about being a mom.

Mels' definition of success.

Mel's daily routines.

Mel's greatest achievement so far.

Mel's hobbies and the things she does for fun.

Mel's advice to her 10-year old self.

Mel's BIG DREAM for the future.
RESOURCES
THANK YOU FOR LISTENING — SUBSCRIBE & LEAVE A HONEST REVIEW. GET FREE PERSONALIZED STICKERS!
To get Dream Big episodes sent directly to your device as they are published, you can subscribe:
Subscribe and listen to the DREAM BIG Podcast on: iTunes, Stitcher, Google Play Music, Soundcloud, iHeartRadio
If you received value from our podcast, we would greatly appreciate if you could take a minute to leave us a review on iTunes review on iTunes here. This helps us get more exposure for the podcast and in turn allows us to inspire more people to dream big. We read each and every review and are so grateful to our listeners who have taken the time to write us one. For a limited time only, as a way to say thank you for taking the time to leave an honest review, we will mail you 48 free personalized stickers!  Follow the instructions at DreamBigPodcast.com/bonus to get your free stickers!
Thanks again for all of your amazing support.
Share this: