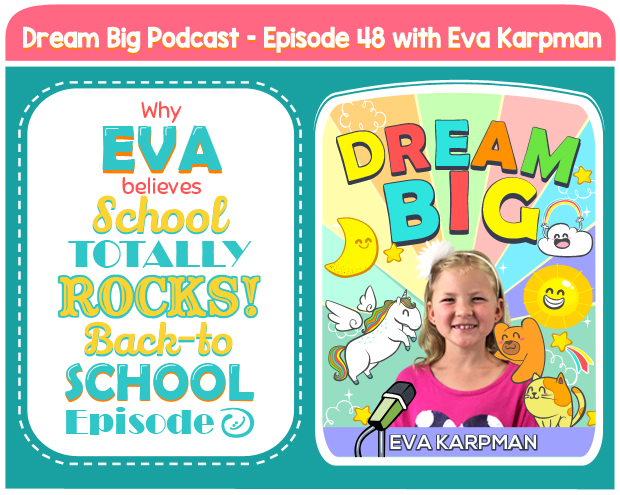 Share this: 
LISTEN TO OUR PODCAST
Subscribe and listen to the DREAM BIG Podcast on: iTunes, Stitcher, Google Play Music, Soundcloud, iHeartRadio
SOLO EPISODE FROM EVA
Eva is back for her first solo episode since Episode 16 on setting SMART goals back in January.  This episode is particularly timely for our young Big Dreamers who are starting back at school this month.  It is always a challenge to transition from the excitement of summer vacation to the routine of the school day, but Eva is here with a host of incredible reasons why having a positive mindset about school is so important.
THIS WEEK'S RHYME
For solo episodes, we are going to start adding a short rhyme at the end of each episode which sums up the main points Eva has shared.  Here is this week's rhyme.  Be sure to listen to the entire episode so you understand the full context of the rhyme.
School is not Disneyland, but your experience there can still be great!
Whether or not you enjoy it comes down to your emotional state.
If you convince yourself "School Sucks" – well then it is not going to work out well.
You'll be miserable in class counting down the seconds till the dismissal bell.
You have another choice — an empowering one — where your attitude is that School totally rocks.
You'll make more friends, learn new things, while having so much fun you'll forget to check the clock.
The reality is you'll be in school until you're at least 18, it's out of your control.
But you can control your emotions, so instead of a case of the School Blues choose Rock N Roll.
RESOURCES
THANK YOU FOR LISTENING — SUBSCRIBE & LEAVE A HONEST REVIEW. GET FREE PERSONALIZED STICKERS!
To get Dream Big episodes sent directly to your device as they are published, you can subscribe:
Subscribe and listen to the DREAM BIG Podcast on: iTunes, Stitcher, Google Play Music, Soundcloud, iHeartRadio
If you received value from our podcast, we would greatly appreciate if you could take a minute to leave us a review on iTunes review on iTunes here. This helps us get more exposure for the podcast and in turn allows us to inspire more people to dream big. We read each and every review and are so grateful to our listeners who have taken the time to write us one. For a limited time only, as a way to say thank you for taking the time to leave an honest review, we will mail you 48 free personalized stickers!  Follow the instructions at DreamBigPodcast.com/bonus to get your free stickers!
Thanks again for all of your amazing support.
Share this: