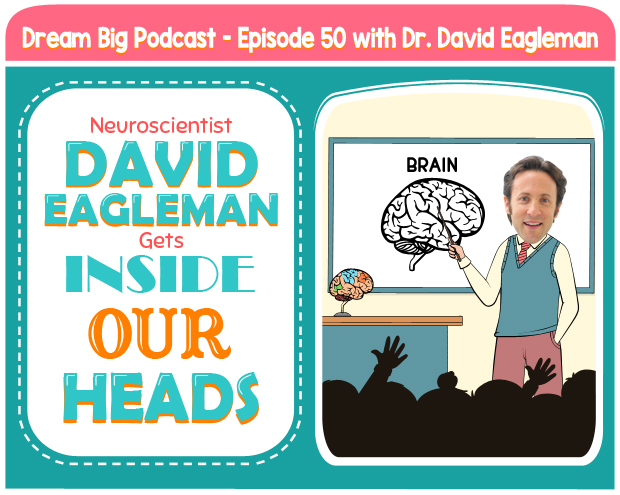 Share this: 
LISTEN TO OUR PODCAST
Subscribe and listen to the DREAM BIG Podcast on:
iTunes  |  Stitcher  |  Google Play Music  |  Soundcloud  |  iHeartRadio  |  Spotify
TODAY'S GUEST
Olga and Eva are excited to introduce one of the world's foremost experts on the brain to our Big Dreamers. David Eagleman is a neuroscientist and a New York Times bestselling author. He is the writer and presenter of the international PBS series, The Brain with David Eagleman, and the author of the companion book, The Brain: The Story of You. He is a TED speaker, Guggenheim Fellow, and has published over 100 academic articles and books on nueroscience.
We loved watching his TED talk and appearance on the Colbert Report to prepare for the interview, and are so honored he took time out of his busy schedule to be our guest on the Dream Big Podcast.
WHAT YOU'LL LEARN
How David discovered that studying the brain was his calling in life.

Advice to parents on how they can encourage their kids to follow their passion.

Examples of how humans and animals experience different realities.

The remarkable vest for deaf people built by David's lab that converts sound from the world into vibrations mapped across the vest.

How technology can help enhance our senses.

The importance of trying new things and how that slows down time.

David's best advice to those considering pursuing science as a career.

How David overcame his fears to pursue his dreams.

David's advice to his 10-year old self.

David's BIG DREAM for the future.
RESOURCES
BECOME A DREAM BIG INSIDER
THANK YOU TO OUR FIRST SPONSOR, KIND SNACKS.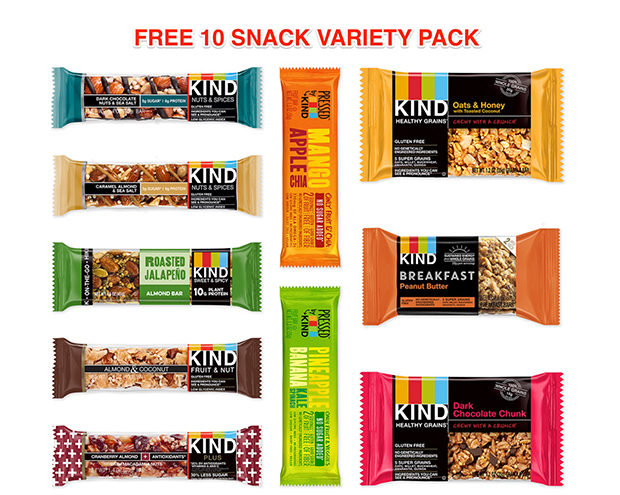 This week we are excited to introduce the first sponsor of the Dream Big Podcast, KIND snacks.  There is a ton of work and expense that goes into creating and producing a professional podcast, and adding sponsors allows us to subsidize those costs.   You can support our show and take advantage of an amazing deal for 10 FREE KIND snack bars.  You just pay shipping and handling.   Please note that this deal is for those who sign up for their monthly snack service, but you can cancel that service at anytime (including after you receive your free sample box).  We are huge fans of KIND snacks as they are delicious AND healthy, so we thought it was a perfect fit for our show.   To claim your free sample box, go to KindSnacks.com/dream  Enjoy!
THANK YOU FOR LISTENING — SUBSCRIBE & LEAVE A HONEST REVIEW. GET FREE PERSONALIZED STICKERS!
To get Dream Big episodes sent directly to your device as they are published, you can subscribe:
Subscribe and listen to the DREAM BIG Podcast on:
iTunes  |  Stitcher  |  Google Play Music  |  Soundcloud  |  iHeartRadio  |  Spotify
If you received value from our podcast, we would greatly appreciate if you could take a minute to leave us a review on iTunes review on iTunes here. This helps us get more exposure for the podcast and in turn allows us to inspire more people to dream big. We read each and every review and are so grateful to our listeners who have taken the time to write us one. For a limited time only, as a way to say thank you for taking the time to leave an honest review, we will mail you 48 free personalized stickers! Follow the instructions at DreamBigPodcast.com/bonus to get your free stickers!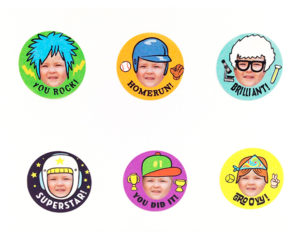 Thanks again for all of your amazing support.
Share this: