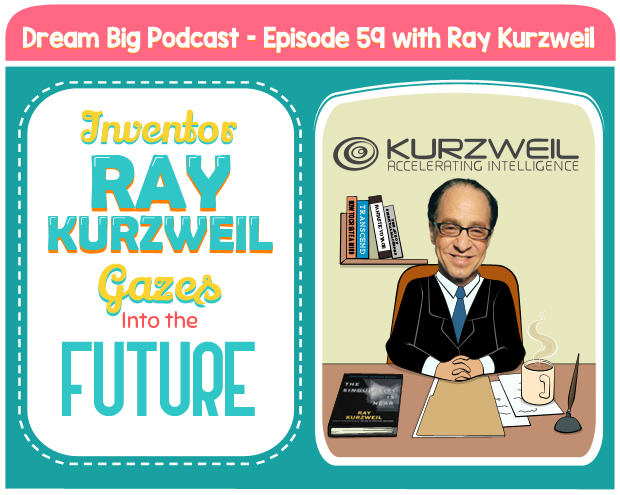 Share this: 
LISTEN TO OUR PODCAST
Subscribe and listen to the DREAM BIG Podcast on:
iTunes  |  Stitcher  |  Google Play Music  |  Soundcloud  |  iHeartRadio  |  Spotify
TODAY'S GUEST
We are thrilled to introduce the guest in this week's episode, Ray Kurzweil. Ray is an Inventor, entrepreneur and a visionary.  He has been described as "the restless genius" by The Wall Street Journal, "the ultimate thinking machine" by Forbes, and "Edison's rightful heir" by Inc. Magazine.
That may seem like high praise, but here is just a tiny sampling of Ray's seminal inventions: the first CCD flatbed scanner, the first omni-font optical character recognition, the first print-to-speech reading machine for the blind, the first text-to-speech synthesizer, the first music synthesizer capable of recreating the grand piano and other orchestral instruments, and the first commercially marketed large-vocabulary speech recognition.
As you can see, Ray is the epitome of a Big Dreamer, and it was a true honor to have him on the show.  We're sure that all our Big Dreamers, kid and adults alike, will love this episode. Enjoy!

WHAT YOU'LL LEARN
Ray shares what it means to be a futurist and at what point he realized that predicting the future of technology was his calling.

Ray shares how thinking about the future helps him as an inventor.

Ray shares a little about Danielle, the girl from his novel that dreams about the future.

Ray shares how daydreaming is the source of all creative ideas.

How a typewriter inspired 5-year old Ray to become a great inventor.

The invention Ray is most proud of, and how it created a huge impact in the lives of the blind people.

Ray shares a little background about his new novel that will come out April next year, Danielle, Chronicles of a Super Heroine.

Ray explains what "singularity" means, and how it will be a turning point in human history.

Ray shares his insights about having human life expectancy extended to 100-150 years.

Ray's advice to his 10-year old self.

How Ray moves past fears and deals with setbacks.

Ray's BIG DREAM for the future.

And so much more!
RESOURCES
SPREADING THE LOVE!
Mommy's Memorandum is a helpful resource for parents from the brilliant mind of Julee Morrison. You'll discover family activities, crafts, travel tips, pet resources and dinner inspiration with recipes both traditional and in the instant pot. Thank you Julee for the very kind article you wrote about Dream Big Podcast, which you can check out here and then get lost on this wonderful site Julee has created.
BECOME A DREAM BIG INSIDER
THANK YOU TO OUR SPONSOR, LOVEPOP
The sponsor of this week's episode is Lovepop. I remember seeing these amazing 3D pop-up cards on Shark Tank where Mr. Wonderful invested, and he sure did make the right decision. We were fortunate enough to have LovePop send us some of their cards, and you can see Eva's reaction in the video above. These are not just normal cards. They are unforgettable keepsakes. And of course, there is a special offer for our Big Dream community. If you go to Lovepop.com/dreambig – you'll unlock special pricing for 5 or more cards, AND get free shipping.
THANK YOU FOR LISTENING — SUBSCRIBE & LEAVE A HONEST REVIEW. GET FREE PERSONALIZED STICKERS!
To get Dream Big episodes sent directly to your device as they are published, you can subscribe:
Subscribe and listen to the DREAM BIG Podcast on:
iTunes  |  Stitcher  |  Google Play Music  |  Soundcloud  |  iHeartRadio  |  Spotify
If you received value from our podcast, we would greatly appreciate if you could take a minute to leave us a review on iTunes review on iTunes here. This helps us get more exposure for the podcast and in turn allows us to inspire more people to dream big. We read each and every review and are so grateful to our listeners who have taken the time to write us one. For a limited time only, as a way to say thank you for taking the time to leave an honest review, we will mail you 48 free personalized stickers! Follow the instructions at DreamBigPodcast.com/bonus to get your free stickers!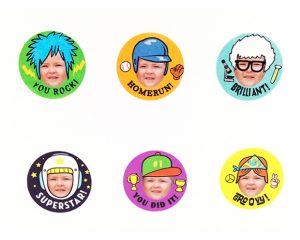 Thanks again for all of your amazing support.
Share this: