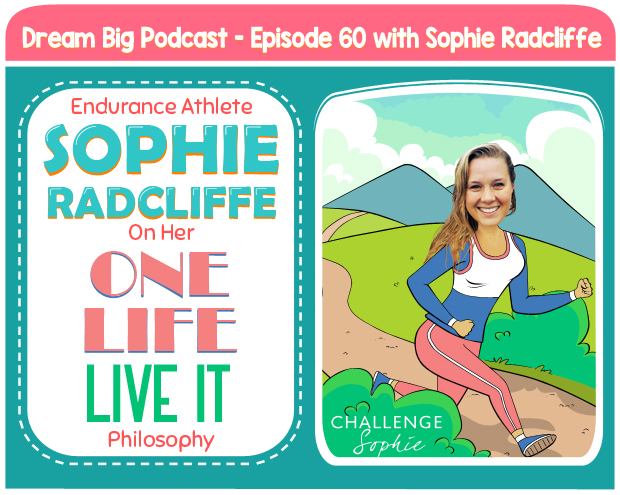 Share this: 
LISTEN TO OUR PODCAST
Subscribe and listen to the DREAM BIG Podcast on:
iTunes  |  Stitcher  |  Google Play Music  |  Soundcloud  |  iHeartRadio  |  Spotify
TODAY'S GUEST
Eva and Olga are thrilled to introduce this week's guest, Sophie Radcliffe, to our Big Dreamers. Sophie is an endurance athlete, adventurer and blogger. She has run, swam, cycled and climbed her way around the world. Her challenges have grown each time to reach higher or further than before. She is the only person in history to have climbed the highest mountains in the eight Alpine countries and cycled between them, climbing five times the height of Mount Everest in 32 days. She is also a two-time Ironman finisher.  Not too shabby!
Sophie's philosophy in life is "One Life, Live It" and her life decisions truly embody that way of thinking.  We hope that you enjoy listening to this interview as much as we loved chatting with her.
WHAT YOU'LL LEARN
What Sophie dreamed of doing as a child.

At what point Sophie realized that she needed to quit her office job and start doing what makes her happy.

Sophie shares the meaning of her long-time philosophy in life –

One Life, Live it.

How Sophie deals with the voice in her head that tells her to quit.

Sophie shares why it is important to get out of your comfort zone.

Sophie shares how her mom and grandmom inspired her to live the life she has now.

Sophie shares what her new program, the Youth Empowerment Initiative, is all about.

The most unforgettable place Sophie has visited.

Sophie's hobbies and activities she does for fun on a lazy weekend.

Sophie's BIG DREAM for the future.
RESOURCES
SPREADING THE LOVE!
Thank you to our friends who recently helped spread the love about the Dream Big Podcast.  Click the links below to see what they had to say about our show, and get lost in the amazing content throughout their sites 🙂
Mojitos & Munchkins

– April's

Mojitos & Munchkins

focuses on ideas for family fun, tips & tricks of parenting, teacher resources, and yummy recipes. April also likes to throw in printable freebies of activities that can be done as a family.   April is a brilliant writer with an authentic voice, and shares both the excitement and frustration that comes with living as a mom in the trenches of parenting.  Enjoy:

Kids Can Do Amazing Things

Simply Samantha Bush

– Samantha Bush's wonderful family blog offers invaluable content for moms who work from home and want to maintain a healthy lifestyle.  Samantha is a mompreneur and wellness coach with over 5 years of social media marketing experience.  Enjoy:  

"How To Avoid Holiday Weight Gain."
THANK YOU TO OUR SPONSOR, DATEVITATION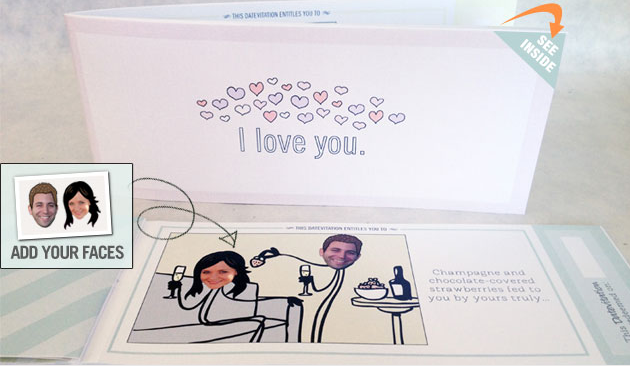 The sponsor of today's episode is Datevitation.com where you can create a custom love coupon book full of fun activities to do with the ones you love.  We love the selection of over 500+ activity ideas — and Datevitation has great options for books for kids to their parents, for parents to their kids, and for of course the classic romantic book for grown-ups to each other.   They even have an option to upload your photos and you can add your face to the adorable illustration options.  Eva made me a Datevitation book for my birthday last year and it was my favorite gift by far.  We had so much fun doing the activities in the book together and creating lifelong memories.
Special Deal – For our Dream Big community, Datevitation is offering a custom Datevitation book starting at just $15 including free shipping.   That's $15 for a completely custom gift — including shipping.   You get to pick the cover of your choice, 5 date activities, and can even add your photos to the illustrations.  If you would like to add more than 5 pages, you can do that for $1 each.  Just use the code DREAMBIG at checkout to take advantage of this amazing deal for a limited time only. You can get started here.
THANK YOU FOR LISTENING — SUBSCRIBE & LEAVE A HONEST REVIEW. GET FREE PERSONALIZED STICKERS!
To get Dream Big episodes sent directly to your device as they are published, you can subscribe:
Subscribe and listen to the DREAM BIG Podcast on:
iTunes  |  Stitcher  |  Google Play Music  |  Soundcloud  |  iHeartRadio  |  Spotify
If you received value from our podcast, we would greatly appreciate if you could take a minute to leave us a review on iTunes review on iTunes here. This helps us get more exposure for the podcast and in turn allows us to inspire more people to dream big. We read each and every review and are so grateful to our listeners who have taken the time to write us one. For a limited time only, as a way to say thank you for taking the time to leave an honest review, we will mail you 48 free personalized stickers! Follow the instructions at DreamBigPodcast.com/bonus to get your free stickers!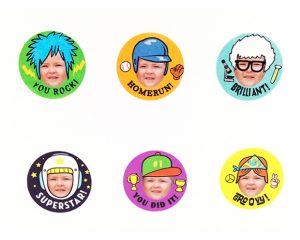 Thanks again for all of your amazing support.
Share this: