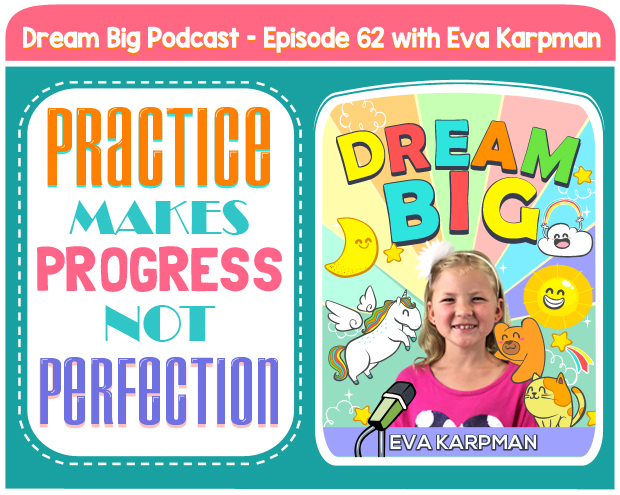 Share this: 
LISTEN TO OUR PODCAST
Subscribe and listen to the DREAM BIG Podcast on:
iTunes  |  Stitcher  |  Google Play Music  |  Soundcloud  |  iHeartRadio  |  Spotify
SOLO EPISODE FROM EVA
Eva has been asking to do more solo episodes, so hopefully our Big Dreamers will get to enjoy more solo episodes in 2018 🙂  This one is a very important lesson where Eva explains why the common saying "Practice Makes Perfect" is flat-out wrong.   Parents, if you are guilty of using this phrase (I know I have been in the past), then please listen to Eva's episode because it explains why that saying can do more harm for your child than good.  We prefer to say "Practice Makes Progress" for all the reasons Eva shares in this short episode.
THIS WEEK'S RHYME
Here is this rhyme that Eva shares at the end of the episode, which she co-wrote with her Dad.  You'll need to listen to the episode to understand the full context.
Practice does not make perfect, it makes progress.
Life is about constantly improving — it's a process.
Everyone you admire was a beginner at one time.
Michael Phelps didn't know how to swim. Dr. Suess didn't know how to Rhyme.
If you have a dream, you need to get started.  You won't be perfect but that's ok.
Living your dream is about getting a little better, each and every day.
We also have this artwork that you can download and share: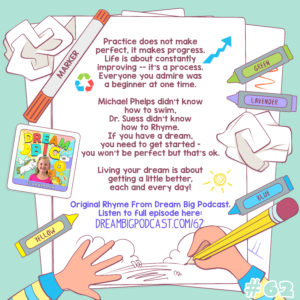 SPREADING THE LOVE!
We like to thank our friends who spread the love about the Dream Big Podcast.  Click the links below to see what they had to say about our show, and get lost in the amazing content throughout their sites 🙂
Confessions of an Adoptive Parent

–

Confessions of an Adoptive Parent

is the place where Mike & Kristin Berry help weary adoptive & foster parents find the support & validation they need to regain hope and finally stop feeling alone. Mike and Kristin are raising 8 amazing children, all of whom have been adopted.  They have also served as foster parents for 8 years.  This blog shares their unfiltered and honest journey.  Enjoy:

The Top 5 Can't-Miss Adoption & Foster Podcasts Of The Year.
THANK YOU TO OUR SPONSOR, DATEVITATION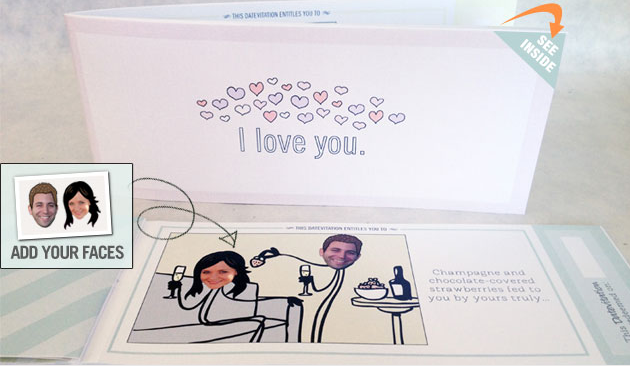 The sponsor of today's episode is Datevitation.com where you can create a custom love coupon book full of fun activities to do with the ones you love.  We love the selection of over 500+ activity ideas — and Datevitation has great options for books for kids to their parents, for parents to their kids, and for of course the classic romantic book for grown-ups to each other.   They even have an option to upload your photos and you can add your face to the adorable illustration options.  Eva made me a Datevitation book for my birthday last year and it was my favorite gift by far.  We had so much fun doing the activities in the book together and creating lifelong memories.
Special Deal – For our Dream Big community, Datevitation is offering a custom Datevitation book starting at just $15 including free shipping.   That's $15 for a completely custom gift — including shipping.   You get to pick the cover of your choice, 5 date activities, and can even add your photos to the illustrations.  If you would like to add more than 5 pages, you can do that for $1 each.  Just use the code DREAMBIG at checkout to take advantage of this amazing deal for a limited time only. You can get started here.
THANK YOU FOR LISTENING — SUBSCRIBE & LEAVE A HONEST REVIEW. GET FREE PERSONALIZED STICKERS!
To get Dream Big episodes sent directly to your device as they are published, you can subscribe:
Subscribe and listen to the DREAM BIG Podcast on:
iTunes  |  Stitcher  |  Google Play Music  |  Soundcloud  |  iHeartRadio  |  Spotify
If you received value from our podcast, we would greatly appreciate if you could take a minute to leave us a review on iTunes review on iTunes here. This helps us get more exposure for the podcast and in turn allows us to inspire more people to dream big. We read each and every review and are so grateful to our listeners who have taken the time to write us one. For a limited time only, as a way to say thank you for taking the time to leave an honest review, we will mail you 48 free personalized stickers! Follow the instructions at DreamBigPodcast.com/bonus to get your free stickers!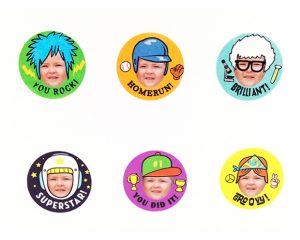 Thanks again for all of your amazing support.
Share this: