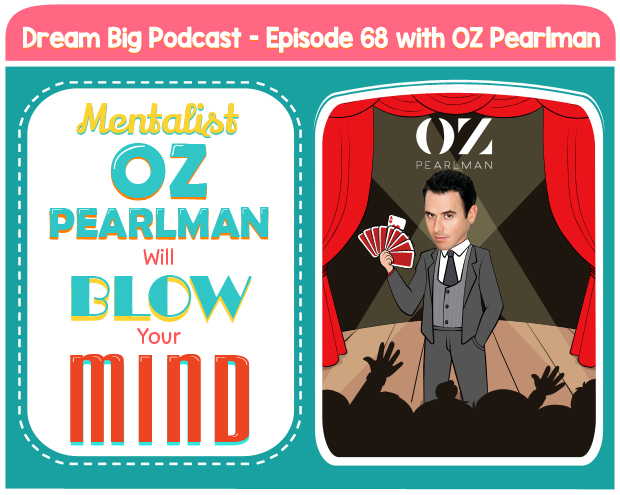 Share this: 
LISTEN TO OUR PODCAST
Subscribe and listen to the DREAM BIG Podcast on:
iTunes  |  Stitcher  |  Google Play Music  |  Soundcloud  |  iHeartRadio  |  Spotify
TODAY'S GUEST
I must admit that of all the incredible people we've had on the show, Eva was most excited to interview today's guest, mentalist Oz Pearlman.  A few years ago, we were Oz's biggest fans as he went all the way to the Finals of America's Got Talent, ultimately finishing in 3rd place.  If it were up to us, he would have definitely won 1st!   If you haven't seen his performance, be sure to check out the videos we link to in the Resources section below.  
We were really curious to see if Oz would be able to perform on our podcast, given that we record the interviews over Skype and they are only audio.  But sure enough, Oz was able to blow our minds and I'm sure yours too!   It is easy to see why Oz is one of the most sought out mentalists in the world.
WHAT YOU'LL LEARN
Oz explains what it means to be a mentalist.

Why Oz focused more on being a mentalist than doing traditional magic.

Oz shares how he works with other mentalists and magicians to get better at his craft.

How Oz got on America's Got Talent and how he auditioned multiple times.

Oz's age when he realized that he wanted to do magic.

Oz gives advice to all the young Big Dreamers who want to be a magician or mentalist in the future.

How Oz reacts when a trick does not go according to plan.

Oz's BIG DREAM for the future.

Oz's favorite magic trick to date.

Oz reads Eva and Olga's minds.  

YOU DO NOT WANT TO MISS THIS.

Oz shares the craziest thing a fan has ever said to him.
RESOURCES
SPREADING THE LOVE!
We are always happy to spread the love to friends who have shared the Dream Big Podcast with their community. Big thanks this week to Dan of Dad Does, a blog and youtube channel which provides in depth reviews, original articles on a host of topics and summaries of stories that any parent would find interesting. They have done well over 600 product review videos – everything from toys and travel to gadgets and cars.  No fluff, no press releases, just real Moms, Dads and kids testing out neat new products.  We loved that Dan included the Dream Big Podcast in his amazing video where he showed the unboxing of a Neon Nitro 8 Scooter.  I'm sure you'll love getting lost in the great content and reviews on the Dad Does channel.
CLAIM YOUR FREE DREAM BIG JOURNAL

We are currently offering a FREE & PERSONALIZED Dream Big Journal to say thank you for supporting our show.  Click the link above to claim your journal while this special offer is still available.
BECOME A DREAM BIG INSIDER
THANK YOU FOR LISTENING — SUBSCRIBE & LEAVE A HONEST REVIEW. GET FREE PERSONALIZED STICKERS!
To get Dream Big episodes sent directly to your device as they are published, you can subscribe:
Subscribe and listen to the DREAM BIG Podcast on:
iTunes  |  Stitcher  |  Google Play Music  |  Soundcloud  |  iHeartRadio  |  Spotify
If you received value from our podcast, we would greatly appreciate if you could take a minute to leave us a review on iTunes review on iTunes here. This helps us get more exposure for the podcast and in turn allows us to inspire more people to dream big. We read each and every review and are so grateful to our listeners who have taken the time to write us one. For a limited time only, as a way to say thank you for taking the time to leave an honest review, we will mail you 48 free personalized stickers! Follow the instructions at DreamBigPodcast.com/bonus to get your free stickers!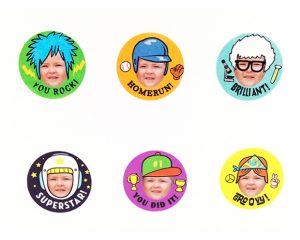 Thanks again for all of your amazing support.
Share this: