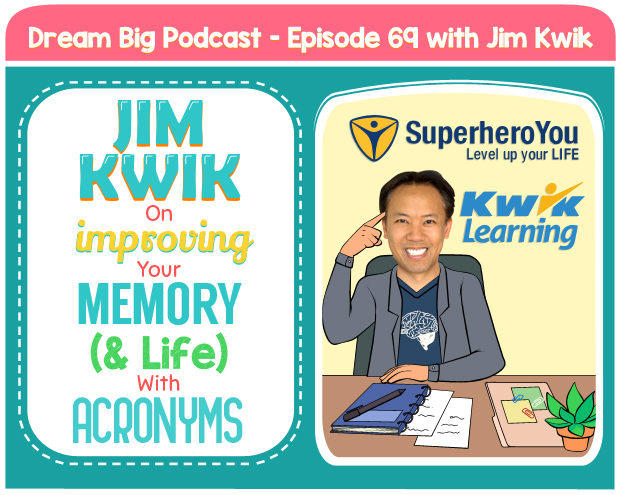 Share this: 
LISTEN TO OUR PODCAST
Subscribe and listen to the DREAM BIG Podcast on:
iTunes  |  Stitcher  |  Google Play Music  |  Soundcloud  |  iHeartRadio  |  Spotify
TODAY'S GUEST
This week, Eva and Olga are thrilled to have learning expert Jim Kwik on the podcast. Jim is the founder of Kwik Learning and a widely recognized world expert in speed-reading, memory improvement, brain performance, and accelerated learning. After a childhood brain injury left him learning-challenged, he created strategies to dramatically enhance his mental performance. He has since dedicated his life to helping others unleash their true genius and brainpower to learn anything faster and live a life of greater power, productivity, and purpose.
He has served as mental coach to students, seniors, entrepreneurs, and educators, and as advisor to many of the world's leading CEOs and celebrities.  In this episode, he was generous enough to share many helpful acronyms that our young Big Dreamers can easily memorize and recall to help inspire a fulfilling life. Thank you Jim for sharing your journey and wisdom with our Dream Big community!
WHAT YOU'LL LEARN
Jim opens up about the struggles he experienced when he was in school.

Jim shares some of his top techniques for memory improvement.

The reason why self-talk is important.

Jim shares what the M.O.M. acronym stands for and why acronyms are such an effective memorizing tool.

How you can remember your dreams using the acronym D.R.E.A.M.S.

Jim reveals his superpower.

Jim shares what the acronym G.P.A. stands for and how he applies it in his daily routines (hint it is not the GPA often associated with school grades).

Jim's BIG DREAM for the future.

And so much more!
RESOURCES
SPREADING THE LOVE!
We are always happy to spread the love to friends who have shared the Dream Big Podcast with their community. Big thanks this week to Ellen Seidman of Love That Max, an award-winning blog for parents raising kids with special needs who kick butt. We loved that Ellen included the Dream Big Podcast in her amazing post on Practice makes progress—forget you, perfect. I'm sure you'll love getting lost in the great content and reviews on the Love That Max blog.
CLAIM YOUR FREE DREAM BIG JOURNAL

We are currently offering a FREE & PERSONALIZED Dream Big Journal to say thank you for supporting our show.  Click the link above to claim your journal while this special offer is still available.
BECOME A DREAM BIG INSIDER
THANK YOU FOR LISTENING — SUBSCRIBE & LEAVE A HONEST REVIEW. GET FREE PERSONALIZED STICKERS!
To get Dream Big episodes sent directly to your device as they are published, you can subscribe:
Subscribe and listen to the DREAM BIG Podcast on:
iTunes  |  Stitcher  |  Google Play Music  |  Soundcloud  |  iHeartRadio  |  Spotify
If you received value from our podcast, we would greatly appreciate if you could take a minute to leave us a review on iTunes review on iTunes here. This helps us get more exposure for the podcast and in turn allows us to inspire more people to dream big. We read each and every review and are so grateful to our listeners who have taken the time to write us one. For a limited time only, as a way to say thank you for taking the time to leave an honest review, we will mail you 48 free personalized stickers! Follow the instructions at DreamBigPodcast.com/bonus to get your free stickers!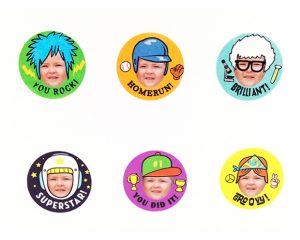 Thanks again for all of your amazing support.
Share this: