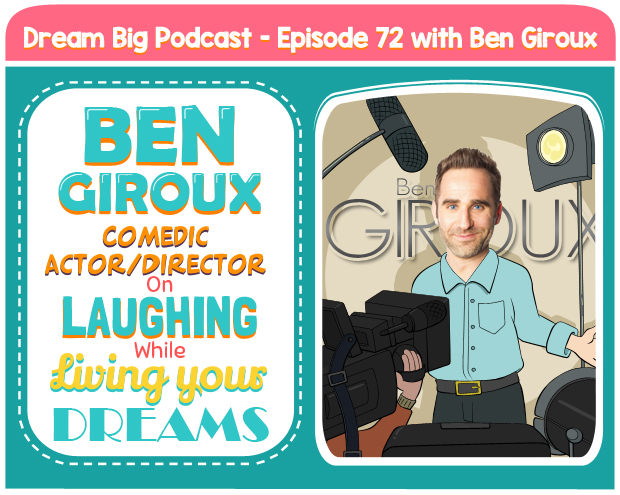 Share this: 
LISTEN TO OUR PODCAST
Subscribe and listen to the DREAM BIG Podcast on:
iTunes  |  Stitcher  |  Google Play Music  |  Soundcloud  |  iHeartRadio  |  Spotify
TODAY'S GUEST – BEN GIROUX
Ben is a comedic actor/director and the creator of the viral music video phenomenon Back To The 90s. Giroux's music video collaborations with indie hip-hop artist Jensen Reed have amassed over 60 million views globally, resulting in endorsements from The Backstreet Boys and multiple weeks climbing the Billboard charts.  Giroux currently stars as Mikey Munroe in Nickelodeon's animated series Bunsen Is A Beast. He also recurs as The Toddler on Henry Danger (NICK), Little Zach on Hart of Dixie (CW), and Dark Warrior on Mighty Med (DISNEY XD).
WHAT YOU'LL LEARN
Ben shares a little bit about his childhood and how he participated in plays and theater.

His best advice to all the young dreamers who want to be an actor.

At what age Ben realized he was funny.

What to do if you are experiencing stage fright.

How he memorizes his lines – especially in long scenes.

Ben performs a voiceover of some of his Nickelodeon characters.

Ben shares some of the accents he's done as an actor.

Ben shares what he loves most about doing voiceovers and being on camera.

Ben's BIG DREAM for the future.

How Ben deals with rejection.

Ben shares his worst audition story.

Ben's advice to his 10-year old self.
RESOURCES
SPREADING THE LOVE!
Thank you to our friends who recently helped spread the love about the Dream Big Podcast.  Click the links below to see what they had to say about our show, and get lost in the amazing content throughout their sites 🙂
NaybeeTV

– NaybeeTV is a new online video network for kids, teens, and families. They are committed to bringing families together with high quality entertainment that kids and parents alike will enjoy. You can watch NaybeeTV on your favorite streaming platforms, Amazon Video and YouTube, just go to Amazon.com/v/NaybeeTV or YouTube.com/NaybeeTV, or visit us at our website NaybeeTV.com. Viewing in a safer, ad-free environment is also available through Amazon Prime and YouTube Red. We just loved that they included the Dream Big Podcast in their amazing video on

A YEAR'S WORTH OF MAIL pt. 1 – P.O. Box closing 🙁

.

IZZAROO

–  IZZAROO is a brand that inspires families to play, create, explore and be the good together. They offer educational blog content as well as creative t-shirts with an empowering message for kids and adults. As part of their mission to Be the Good, a portion of each sale is donated to organizations that help underprivileged youth by building playgrounds in areas of poverty, offering art education in inner cities and providing transformative outdoor experiences.. We were thrilled that Mary included us in a post entitled:  

Podcasts for Kids That Adults Will Enjoy, too
CLAIM YOUR FREE DREAM BIG JOURNAL

We are currently offering a FREE & PERSONALIZED Dream Big Journal to say thank you for supporting our show.  Click the link above to claim your journal while this special offer is still available.
BECOME A DREAM BIG INSIDER
THANK YOU FOR LISTENING — SUBSCRIBE & LEAVE A HONEST REVIEW. GET FREE PERSONALIZED STICKERS!
To get Dream Big episodes sent directly to your device as they are published, you can subscribe:
Subscribe and listen to the DREAM BIG Podcast on:
iTunes  |  Stitcher  |  Google Play Music  |  Soundcloud  |  iHeartRadio  |  Spotify
If you received value from our podcast, we would greatly appreciate if you could take a minute to leave us a review on iTunes review on iTunes here. This helps us get more exposure for the podcast and in turn allows us to inspire more people to dream big. We read each and every review and are so grateful to our listeners who have taken the time to write us one. For a limited time only, as a way to say thank you for taking the time to leave an honest review, we will mail you 48 free personalized stickers! Follow the instructions at DreamBigPodcast.com/bonus to get your free stickers!
Thanks again for all of your amazing support.
Share this: