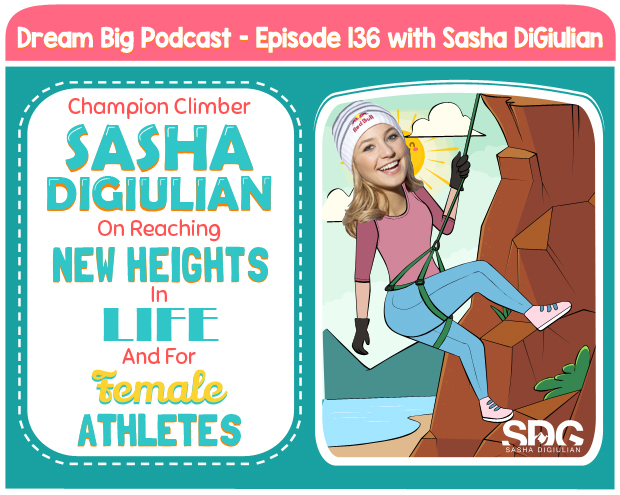 Share this: 
LISTEN TO OUR PODCAST
Subscribe and listen to the DREAM BIG Podcast on:
iTunes  |  Stitcher  |  Google Play Music  |  Soundcloud  |  iHeartRadio  |  Spotify
TODAY'S GUEST
Sasha DiGiulian first began climbing at 6 years old, in 1998. She has won the World Championships for Female Overall, and has placed Silver in the Bouldering World Championships, as well as Bronze in the Duel. Sasha has been the undefeated panAmerican Champion 2004 to the present, and she is a three-time US National Champion.
Outdoors, Sasha is the first North American woman to climb the grade 9a, 5.14d, recognized as one of the hardest sport climbs achieved by a female. She has done two. Sasha was the third woman in the world to accomplish this grade. Additionally, she has onsighted multiple 8b+'s, 5.14a's, ascended groundbreaking multipitch routes of up to 1000 feet of 8c climbing, and has accomplished multiple First Ascents and over 30 First Female Ascents around the world, including a First Female Ascent on the North Face of the Eiger.
In this episode, Eva focuses on the mindset required to successfully ascend steep cliffs — and how Sasha has worked on both her body and mind to become a champion climber.
WHAT YOU'LL LEARN
Where Sasha grew up and how she fell in love with climbing.
The point in Sasha's life when she realized that she can actually become a professional climber.
Sasha shares what is like to be a female in a sport that is largely dominated by men.
How Sasha was able to train with a fractured leg.
The most challenging climbs she has ever done — and what motivates her to push and keep going.
Sasha's advice to the big dreamers who are dealing with Cyberbullying.
Sasha describes what a Tread Wall is (like a treadmill but a wall).
Sasha's advice to her 10-year old self.
Sasha Big Dream for the future.
And so much more!
RESOURCES
>> Get Eva's Free Confidence Secrets Course Here <<
If you are a long-time listener, you know that we are working on a course that we are going to launch in 2019 called the Dream Big Academy.   The first section of the course is all about this concept of self-belief. And we just completed this section!
We really want all of our Big Dreamers to have access to this information – so we are going to offer the first section for FREE for a limited time.  It is essentially its own course on confidence — with over 1 hour of videos with Eva teaching on the subject!  We hired an amazing illustrator who helped us with the videos and accompanying worksheets. We are so incredibly proud of this content and know it can have a huge impact.   We hear from so many listeners who say that their kids really connect with Eva since she is a peer – and we know that this same connection will carry over to the course. To access this free confidence course, please go to DreamBigPodcast.com/Beta
>> Get Eva's Free Confidence Secrets Course Here <<
BECOME A DREAM BIG INSIDER
CLAIM YOUR FREE DREAM BIG JOURNAL

We are currently offering a FREE & PERSONALIZED Dream Big Journal to say thank you for supporting our show.  Click the link above to claim your journal while this special offer is still available.
THANK YOU FOR LISTENING — SUBSCRIBE & LEAVE A HONEST REVIEW. GET FREE PERSONALIZED STICKERS!
To get Dream Big episodes sent directly to your device as they are published, you can subscribe:
Subscribe and listen to the DREAM BIG Podcast on:
iTunes  |  Stitcher  |  Google Play Music  |  Soundcloud  |  iHeartRadio  |  Spotify
If you received value from our podcast, we would greatly appreciate if you could take a minute to leave us a review on iTunes review on iTunes here. This helps us get more exposure for the podcast and in turn allows us to inspire more people to dream big. We read each and every review and are so grateful to our listeners who have taken the time to write us one. For a limited time only, as a way to say thank you for taking the time to leave an honest review, we will mail you 48 free personalized stickers! Follow the instructions at DreamBigPodcast.com/bonus to get your free stickers!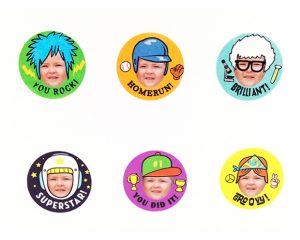 Thanks again for all of your amazing support.
Share this: