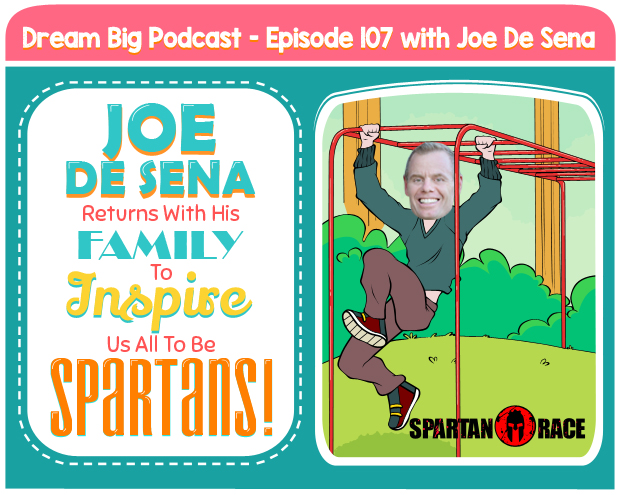 Share this: 
LISTEN TO OUR PODCAST
Subscribe and listen to the DREAM BIG Podcast on:
iTunes  |  Stitcher  |  Google Play Music  |  Soundcloud  |  iHeartRadio  |  Spotify
TODAY'S GUEST
We've had a ton of amazing guests on the Dream Big Podcast.   So when we started to talk about inviting a previous guest back on – there was no shortage of choices.   But there was one guest that came immediately to Eva's mind when we asked her who she wanted to talk to again… JOE DE SENA.  
Joe was on Episode 27 of the podcast.   We encourage you to go back and listen to that episode where Eva really goes through Joe's lifelong journey as entrepreneur — , from selling fireworks at age eight, to starting a t-shirt business in high school, to his latest venture and passion for obstacle racing.   Joe is the founder of Spartan, a brand that he and his team have grown to become the world's leading obstacle racing company with over 170 events in 25+ countries and 1 million-plus global participants.
As you'll learn in the episode, Joe was responsible for introducing us to many of our future guests and invited our family up to Lake Tahoe for the Spartan World Championship last year.  We wanted to invite him back on to say thank you, and to see what he's been up in the last year. What's exciting is that he was at home with his family, and as you'll see we ended up having 4 of De Senas on the show!  This is a family-friendly podcast but this brings a whole new meaning to family friendly. We hope you enjoy this fun episode!
WHAT YOU'LL LEARN
Why Joe is the first and only repeat guest of the Dream Big Podcast.

Another first-time record set in over 100 episodes: first time a whole family joined Eva and Olga.

Joe De Sena refreshes our memory about the Spartan Race – what it is and why it has become a worldwide phenomenon.

How Joe worked hard to spread the Spartan Race ideals to 41 countries, 1 million participants and 275 events. And counting!

How kids can train and join a Spartan Race.

Hear all about Eva's first Spartan Race experience: how the event in Lake Tahoe changed her life, opened her up to bigger and brighter opportunities, and allowed her to find her next big dream: to be a DJ!

Learn more about Joe's two sons – Jack and Charlie – who have done a ton of races and marathons – and their future Big Dreams.

The De Sena family's secret to accomplishing their Big Dreams.

Joe talks about the importance of setting stretch goals and dreaming BIG.

Joe's wife, Courtney, gives her take on the importance of finding your tribe to achieve your goals.

Where and how to sign up for Spartan races, including ones for your kids!

Why the Spartan Race is an ideal bonding experience for the whole family — even kids as young as two years old can join!
RESOURCES
DREAM BIG ACADEMY – WAITING LIST
We are hard at work at the Dream Big Academy — a course that Eva is creating with her parents (Alex and Olga) to teach kids about success principles (e.g. self-belief, positive attitude, gratitude, etc).   We feel that these concepts are not adequately taught at schools, that all the materials created by top "gurus" are made by adults for adults, and that it is never too early to start learning these concepts.   If you would like to be the first to know when the Academy is ready, then please sign up now at DreamBigPodcast.com/waitlist.  We may open up a few more spots to our Beta group (which is currently full but can be expanded if we need additional feedback).   We will reach out to the waitlist on a first-come, first-served basis if any spots open up, so join the list today at DreamBigPodcast.com/waitlist
CLAIM YOUR FREE DREAM BIG JOURNAL

We are currently offering a FREE & PERSONALIZED Dream Big Journal to say thank you for supporting our show.  Click the link above to claim your journal while this special offer is still available.
THANK YOU FOR LISTENING — SUBSCRIBE & LEAVE A HONEST REVIEW. GET FREE PERSONALIZED STICKERS!
To get Dream Big episodes sent directly to your device as they are published, you can subscribe:
Subscribe and listen to the DREAM BIG Podcast on:
iTunes  |  Stitcher  |  Google Play Music  |  Soundcloud  |  iHeartRadio  |  Spotify
If you received value from our podcast, we would greatly appreciate if you could take a minute to leave us a review on iTunes review on iTunes here. This helps us get more exposure for the podcast and in turn allows us to inspire more people to dream big. We read each and every review and are so grateful to our listeners who have taken the time to write us one. For a limited time only, as a way to say thank you for taking the time to leave an honest review, we will mail you 48 free personalized stickers! Follow the instructions at DreamBigPodcast.com/bonus to get your free stickers!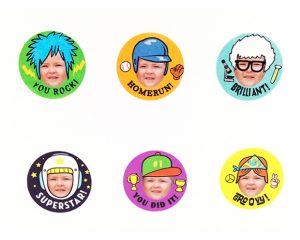 Thanks again for all of your amazing support.
Share this: